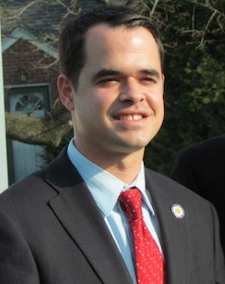 NYS Senator David Carlucci, who introduced and helped passed the organ donor bill called "Lauren's Law" in New York State, will be on  NBC Nightly News tonight (9/9) at 6:30p. Here's a letter from the Senator explaining why:
This past Wednesday, I met up with the crew from NBC Nightly News to speak about the historic passage of Lauren's Law in the state legislature this year '€" a bill that no doubt will save countless lives for those who desperately need a life-saving organ donation.

We could not have done it without the tireless advocacy of 12 year old Stony Point resident Lauren Shields, for who the bill was named after.  The recipient of a heart transplant herself, Lauren puts a human touch on an issue that rightfully deserves its place in the spotlight.  Through her own efforts, she has helped make history in New York State, and is about to show the entire country that one person can truly make a difference.

Please be sure to tune into NBC Nightly News this Sunday with Lester Holt at 6:30 PM to watch the complete airing of this amazing story.