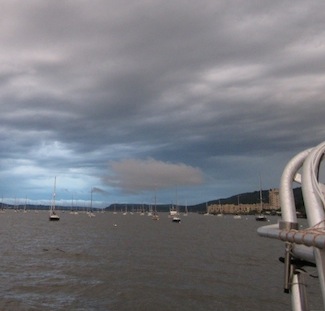 by Jack and Marce Schulz
One week ago on Sept 8, a violent storm spoiled a perfect Saturday morning spawning tornadoes in Queens and Brooklyn and cancelling kids soccer games all across the tri-state area. Most of us could hide from Mother Nature's wrath indoors on dry land. But what if your home was a sailboat moored in the Hudson near the Nyack Beach Club, your temporary port of call as you explored the world? In a post called A Curious Visit and The View From The Back Porch, Marce Schulz writes about what the storm looked like from sea level on their 1998 Manta 40 catamaran, Escape Velocity.
What a day! We had spent an uneasy night because of the proximity of too many small sailboats and some wind-against-current swinging. As soon as it was light we weighed anchor and moved Escape Velocity to a better spot closer to shore and far away from any moorings.
We were congratulating ourselves on a perfect choice of anchorage with no nearby boats when we heard a voice calling out from very close. We looked around. No boats. And then we saw the man in the water out for a morning swim in a red swim cap and hand paddles. He said '€œGood morning!'€ and Jack went out on deck to chat. This was a first for us, and we were struck with how hardy New Yorkers are.
He told us there was a front moving in and that we'd have a rough hour and a half but then we'd have fine weather. The whole time we talked he was treading water in high winds and current. I was tired just watching him. Finally he swam off and we lost track of him in the waves.
Winds stayed 15-20 knots all day with occasional gusts in the mid-20s. I was bordering on seasick but we both just lay about and read and watched the horizon. Serious weather was moving in.
By early afternoon we felt like we were riding a bucking bronco. Two squall lines moved up river, one on each bank. We got just a few sprinkles but lots of wind.
Things calmed down a little for the rest of the afternoon, but the winds stayed up and consequently the river was choppy. We bounced. By 4:30 the weather radio was warning of tornadoes and a line of violent thunderstorms. We rechecked all the ports and hatches, checked the anchor and waited. We saw lightning over the ridge to the west, and suddenly it was on us. The wind slammed over Nyack and into the river like a freight train and we couldn't see the bow from the cockpit. The storm moved at 40 miles and hour, said the radio, and we could believe it.
The wind blew in the mid-30s for about half an hour and the rain came down in sheets. Oh good, I thought, our decks will be nice and clean. The storm left as quickly as it came and the wind dropped to almost nothing as we watched the clouds move north.
My stomach was so grateful but I was still queasy enough to ask Jack to make dinner. We watched the sky clear south of us.
And by evening we were treated to an amazing sunset. Some days the view from the back porch is like a movie.
On their blog about their voyage, Jack and Marce Schulz describe themselves as "two boomers who are finally achieving escape velocity on our quest to see the world. We saved up, sold our house and now after wandering around Florida and the East Coast as far as Rhode Island, we found our new home, a 1998 Manta 40 catamaran, Escape Velocity."

The couple are sailors, bikers and big fans of Nyack, too. "We love Nyack and whenever we visit it's like a homecoming. We are originally from Pittsburgh, PA, but we have family in Old Tappan, NJ, and we come to visit several times a year. When we took up cycling we started bringing our bikes with us and that's when we discovered Nyack via the network of bike trails that led us from Tappan through Piermont to Nyack. It was love at first sight. The natural beauty of the Palisades and the river, along with the many shops and restaurants, and a frequent stop, the Runcible Spoon, all make this one of our favorite places to visit. It doesn't hurt that the town is so bike friendly, something we really appreciate."

Last year the couple sold their house in Pittsburgh, drove 7800 miles over five months and then sold their car and moved into Escape Velocity. The name references all of the years of hard work it took to make the leap from shore to ship. "We worked toward this for more than 20 years through all the usual setbacks a family faces," says Marce. "We were so happy to finally reach this milestone that we named our boat Escape Velocity."

The couple has visited visited St. Augustine, FL, Charleston, SC, Beaufort, NC, Portsmouth, VA, Newport and Block Island, RI, Port Washington, NY and many towns and quiet anchorages in between. "Our goal throughout the summer was to get to Nyack and hang out with family before we turn South again toward the real beginning of our journey, the Panama Canal and the Pacific Ocean," she says.

Although they are car less, they still have some wheels on board to get around when they are in port. "We carry full size bicycles with us, which is unusual for a sailboat. Most boaters downsize to small folding bikes, but Jack designed a rig that suspends the bikes over our dinghy and we can offload them either by swinging them onto a dock or lowering them into the dinghy to get ashore. We love being in a place where we can leave our bikes locked up ashore. That really increases our range for shopping and entertainment. While we were still land-based we enjoyed bike touring and we hope to be able to go on multi-day bike trips while we sail the world," she says.

Marce says The Nyack Boat Club and the Hook Mountain Yacht Club have been very welcoming and have allowed the couple to use their dinghy docks. "We can't say as much about the Nyack Municipal Marina," says Marce. "We had hoped to be at a dock during our visit, but the only possibility, the Municipal Marina, doesn't take transients, despite the fact that it's half empty. That's quite puzzling."

To follow Jack and Marce's Excellent Sailing Adventure, read their blog at EscapeVelocity.mobi. "It took us a long time to get here, and now that we're living on our own boat it seems totally normal to us," says Marce.  "It's always a jolt back to reality when people find it unusual."
As Others See Us is an occasional feature that publishes what writers outside of Nyack say about the people and places in the Lower Hudson Valley.