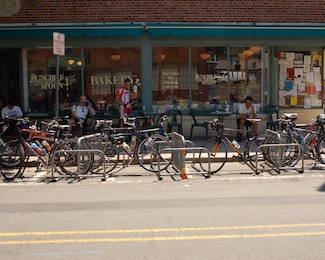 by Jennifer Dunn
What does the village look like if your only visits are on two wheels, across a few bridges and up and down some serious hills along the Hudson?
Nyack is a town in upstate New York. It's a 72 mile ride from my apartment and back, over the George Washington Bridge (GW), into New Jersey and back into New York. It's also known as Route 9 and is a common bike ride for many New York City bikers looking to log miles because once you get across the George Washington Bridge, you ride on the highway median and rarely have to stop.
After the GWB It's a gorgeous ride along the Hudson River for about half the ride and the other half you're in the trees and don't really notice the towns or developments beyond them. It also has some serious hills to climb which means awesome down hills. At one time or another, we have clocked ourselves going well over 30 miles an hour. Even though it's a lot of work coming back up the hills, it's still a lot of fun racing down. And of course there is always a reward for all this hard work. In Nyack there is a place called The Runcible Spoon where all the bikers go for breakfast/brunch before turning back around. The front of the place is all bike parking. No one ever carries a lock with them, we just all park right there in front.
The town of Piermont, about a 50 mile ride round trip, also has a couple of coffee shops right on the bike route. The one I've stopped at is called Bunbury's Coffee, which was good, but the Runcible Spoon is just awesome and worth the extra 20 miles. I love their oatmeal and fresh fruit no matter how hot it is when we do morning rides. We left by 6:30AM and arrived in Nyack by 9a. It is perfect timing for some oatmeal to power up for the ride home. We typically get back home by noon which is nice cause I don't feel like I've lost part of my weekend, just some of the sleep I guess.
Every time we do the ride, we talk about how much we enjoy it. If the weather stays as nice as it has been, maybe we will get ourselves up there a few more times before it gets too cold.
Jennifer Dunn is the managing director of Architecture for Humanity New York, a non-profit group that advocates for socially responsible design to create innovative, sustainable, affordable solutions to humanitarian issues by partnering design professionals with local non-profit organizations, schools, government agencies and community groups. Since 2003 they have completed over 40 local projects for underserved New York City communities.

As Others See Us is an occasional feature that publishes what writers outside of Nyack say about the people and places in the Lower Hudson Valley.