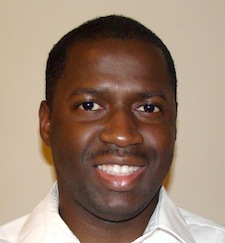 Woodson Petit-Frere, a graduate of Nyack High School, is going to medical school. The Nyack native will begin classes at Albert Einstein College of Medicine of Yeshiva University in New York this month.
Dr. Petit-Frere majored in exercise science at the University of Buffalo and received a Doctor of Physical Therapy in 2006. His interest in global health and community outreach led to a decision to expand beyond physical therapy and go to medical school, joining 182 other members of Einstein's class of 2016. Dr. Petit-Frere and his classmates will begin their studies at Einstein in late August.
Einstein, which runs one of the largest residency programs in the country, is located in the Morris Park neighborhood of the Bronx. Consistently ranking in the top tier of medical schools with respect to NIH funding for basic biomedical research, Einstein currently has NIH-funded research centers in cancer, AIDS, diabetes, liver disease and women's health. Einstein is a Howard Hughes Medical Institute site for tuberculosis vaccine development and has a Hispanic Center of Excellence that addresses healthcare disparities in socio-economically disadvantaged populations.