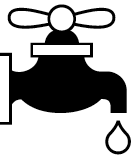 Nyack, Aug 16 3p — A Boil Water Alert, in effect since last Sat 8/11, has now been lifted for customers of the Nyack Water Department. It is no longer necessary to boil tap water before drinking or cooking.
The alert was put in place after a water main burst last Saturday. Repairs were completed by Sunday, but health department regulations require two clean tests of water quality before a Boil Water Alert can be lifted.
To sign up for direct notices from the village via email or Reverse 911, visit Nyack-NY.gov Email Alerts.