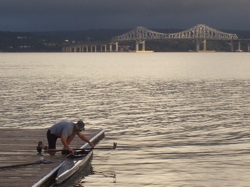 Nyack Aug 4 — That Big Bridge whose tolls are going to triple is the subject of two current historical exhibitions — and a town meeting at the Nyack Library on Monday.
"Looking Back at Tappan Zee Bridge I and its Effect on the Nyacks," remembers South Nyack before the Tappan Zee Bridge was completed in 1955. The exhibit, presented by the Historical Society of the Nyacks, recalls a community before the bridge when a police station, a railroad station, two groceries, two restaurants, two garages, and an antique store occupied the "canyon" where the current Thruway runs. The exhibit runs through Oct 31 and is open during regular library hours in the Carniege Room.
The Corner Frame Shop presents a juried group exhibition on the Tappan Zee Bridge on Sunday, August 5 from 2p '€" 5p. Assemblywoman Ellen Jaffee will make brief remarks at the opening reception. The exhibit will be on view from August 1 '€" 31, 2012 at 40 South Franklin Street in Nyack Tuesday '€" Saturday 10a '€" 5:30p.
The Thruway Authority comes to the Nyack Library to present the Governor's plan for a new bridge on Mon Aug 6 at 6:30p.