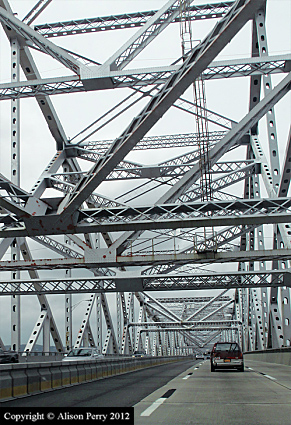 by Dave Zornow
Nyack, August 17 –If fictional super agent Jerry Maguire were to star in the Tappan Zee Bridge story, we would now be up to the scene where Cuba Gooding, Jr bursts into the room and shouts, "show me the money!"
On Thursday, three Lower Hudson Valley county executives who could have blocked the project gave it a green light. Now the last remaining unknown is figuring out how to pay for the new twin span bridge.  Rockland's Scott Vanderhoef, Westchester's Rob Astorino and Putnam's MaryEllen Odell announced they will vote yes on including the Tappan Zee Bridge project in the region's long-range transportation plan at the next New York Metropolitan Transportation Council (NYMTC) meeting.
The three Republican County Executives announced their support for Democratic Governor Andrew Cuomo's plan after the governor agreed to the following concessions:
Dedicated bus lanes will be incorporated on the bridge from the start. Vanderhoef first proposed running Rockland County's Tappan Zee Express buses in the maintenance lanes of the new bridge last February at hearings on the TZB Draft Environmental Impact Statement. Cuomo agreed to this idea in June, however this detail was omitted from the Final Environmental Impact Statement published earlier this month. At last week's Tappan Zee Bridge Community Outreach meeting in Nyack, Secretary to the Governor Larry Schwartz confirmed that the TZx was still part of the plan — and that he was hopeful that the dedicated lanes could be expanded beyond rush hours.
The bridge will be constructed with mass transit capacity compatible with a Bus Rapid Transit (BRT) system and Commuter Rail Transit. Critics say when the DOT promises the new bridge will be "transit ready" their talk is cheap — and doesn't include the real costs of adding the actual infrastructure between the new twin spans to support Commuter Rail Transit.
A Regional Transit Task Force will be created to study costs and options for regional transit, including commuter rail and a BRT system on the bridge and key portions of the Westchester-Rockland corridor. Although a promise is no guarantee to build, it's still a significant concession by the governor to the county execs.  This bullet point represents a big concession by Cuomo, who previously said that mass transit was just too expensive to consider. By commissioning a task force to study the issue, construction can begin at the same time studies are being made. There's no doubt that BRT and CRT are good ideas that have popular support. What's less clear is whether or not each county will want to create the dedicated lanes needed to speed buses (like NYC) or how residents will respond when they realize train tracks and BRT parking will be built near their homes.
A unanimous vote by the New York Metropolitan Transportation Council qualifies the Tappan Zee Bridge project for federal funds.
"A firm commitment from Governor Cuomo's office for dedicated bus lanes on the span from day one is a real victory that will improve commutes for bus riders and drivers from the day the bridge opens," said Veronica Vanterpool, Executive Director of the Tri-State Transportation Campaign. "But without additional measures for bus rapid transit in the future, the bus lanes themselves will do little to address the mobility needs of the I-287 corridor. This initial investment shows that the governor's office has moved beyond the rhetoric of '€œtransit-readiness'€ to a concrete transit provision."
"I am pleased to join with the governor and my fellow county executives in this important TZ Bridge agreement which outlines steps for constructing a mass-transit ready structure, as well as committing to moving forward in the future to address the region's  mass transit needs," said Vanderhoef. "Under the framework we announce today, mass transit will not be an afterthought in the building of the bridge," said Astorino. With plans to have mass transit as part of the new Tappan Zee Bridge we're not waiting five years to start thinking about it, we're moving forward now.'€
What's still missing is the money. Albany needs to find a partner willing to lend the New York State Thruway Authority $5.2 billion to build a new bridge. Without any federal funding available, industry experts — as well as the Governor's own spokesperson — had predicted new Tappan Zee tolls would be $14-16. But last week, Cuomo reversed himself and said that toll was too high and that he was creating a task force of Thruway, state, federal and local officials to find ways to keep tolls to a minimum.
It's not clear what this task force will recommend that hasn't already been considered. A public/private partnership was discussed earlier in the project but subsequently rejected. Cuomo once joked that he was open to any creative financing,  including holding bake sales to pay for the bridge. Could naming rights, car washes and lemonade stands be next on the agenda?
See also:
Photo Credit: ©Alison Perry 2012