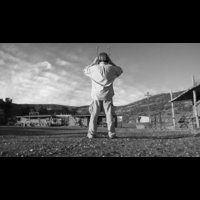 by Mike Timm
What are you doing on August 17 Friday night at 10p? Hopefully going to see my award-winning indie film "A Girl, A Guy, A Space Helmet" playing at the Nyack Theater for the Nyack Film Festival. If it wasn't for my brother Bob Timm, I would have never discovered the fantastic art community of Nyack. The film features upbeat music from The Scofflaws, Hepcat and The Hard Times, my brother's latest band. I'm very proud to have my film play in Nyack. You'll love it!
Bob Timm is a new resident of Nyack, having moved here in the spring of 2012 with his wife, Donna, and four adventurous kids. Bob's a drummer who's been active for many years with some of New York's best ska and reggae musicians. His current band, The Hard Times, is about to be featured in "Brooklyn Rocksteady" – an independent documentary about the revival of vintage reggae music. The band released their first digital EP with Whatevski Records and is currently recording new material in their own studio space in Sunset Park, Brooklyn.
Check'em out! Bob's a prolific musician and will be a solid addition to the Nyack community. Was a pleasure to have one of his tracks included in the movie. The movie… That's a whole other story. After years of writing screenplays, raising three kids and working a 9-5er at a major studio, I finally decided to "go for it" and direct a movie. Self-validation! Have camera, will shoot. Knowing I would be shooting on a micro-budget of only $10,000, I focused on the four creative elements which are not bound by money: an original story, great acting, camera angles and editing style. As long as I chose wisely, I knew I could entertain the audience as well as any studio picture would. Plus, there was a pure thirst to direct which needed that creative quenching. No more excuses. All drive for fulfillment.
It's now done and ready for the masses. Exposure is everything for an indie filmmaking dad. If you cannot make it to the festival screening, feel free to watch the movie online at AGirlAGuyASpaceHelmet.com. Although, as any true filmmaker would, I highly recommend the cinema theatrical experience on Friday night and support the Nyack Film Festival at the Nyack Village Theatre. Either way, I hope you see it and Nyack enjoys "A Girl, A Guy, A Space Helmet" as much as I did making it.
Mike Timm is a feature film director and author of  more than ten screenplays. He is an award-winning copy writer whose past work includes directing and producing TV commercials, assisting the Sundance Filmmaker Labs and  feature film production management & assistant directing. Recently, he optioned  "Hollywood Zombie Starlets" by Jason Phillips which Mike will direct as his second feature film.