by Mike Seidenfrau
An anonymous donor is offering to match the highest bidder for Mike's bike — doubling the amount that will be donated to charity. Read the story and the comment below to learn more. Or join Mike on his last ride on Mon 8/13 at 8:13a.
On the morning of August 13 2011, I made one small mistake. It was something I neglected to do and it nearly cost me my life.
The previous night I had just picked up my brand new Specialized Tarmac SL2 road bike. I was so excited about my first ride. This was my first road bike and it was going to be the beginning of a new hobby.
There was one mistake made that morning — I couldn't find my bike helmet — and it turned out to be a near fatal mistake. I had an accident on my bike that shattered my right elbow and caused severe facial and head injuries. When I arrived at Nyack Hospital, my condition was very uncertain. I subsequently had facial reconstructive surgery and needed to have four pins placed in my elbow.
I survived an accident that could have killed me. I am grateful to whomever called 911 as well as the Congers-Valley Cottage Ambulance Corp, the Emergency Room at Nyack Hospital and all the doctors that helped put me back together.
As it happens, I sustained more damage than the bike did. Other than the seat being knocked off and a scratch on the handle bars, it's as good as almost new. I have ridden the bike several times since then and I am going to ride it one last time on August 13, the one year anniversary of my accident. After my ride, I will sell my black 54 centimeter Specialized Tarmac, SL2 road bike to the highest bidder and donate the money I raise to non-profit groups in our community.
I am welcoming any and all to join me on this ride. I plan on getting to Rockland Lake before 8a and starting the ride at 8:13am. I hope to complete the outer loop, which I did not complete last year, 13 times.
My accident reminds everyone who rides a bike — and motorists who drive near cyclists — about the importance of bike safety . Last month's tragic accident on 9w indicates that the signs in our towns are simply not big enough and and the space that many drivers allow when passing bikes just isn't safe enough. And there are still people who should know better who don't wear bike helmets.
On 9w, Congers Road, Kings Highway, and in the outer loop of Rockland Lake, we need bigger signs with unambiguous wording telling DRIVERS of CARS to be aware of riders of bikers and runners. I have not seen a sign anywhere telling drivers to be aware of areas of  bike traffic. I also believe there should be signs reminding bikers to obey traffic laws, because many cyclists  run red lights or don't come to stop at stop signs when other cars and pedestrians are present.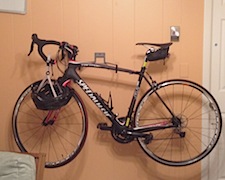 Most importantly, please learn from my experience and remember to always wear a helmet when cycling, whether it is on 9w or down your the street in your neighborhood.
I have recovered from the physical trauma's of the accident and I have taken up long distance running. I was always a runner, but never to the extend I became after the accident. I ran in organized races for the first time starting with the 2011 Turkey Trot, the 2012 George Wodicka Half Marathon, the Meals on Wheels Bill Fortune 10k, and the George Washington Bridge Challenge. I am healthy and thankful to be able to run, play softball and workout again. I always intended something god to come from my accident — thanks in advance for remembering to where a helmet, drive safely when near cyclists and offering to make a generous bid for my bike which will go to a worthy charity.
If you would like to contact Mike to make a bid on his bike with the proceeds being donated to community causes, please email michael.seidenfrau@gmail.com.
Graphic: "Wear Your Helmet Safety First" from BicycleSigns.com