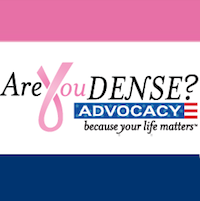 by JoAnn Pushkin
The fight against breast cancer in New York took a giant step forward last week when Governor Cuomo signed into law Breast Density Inform legislation sponsored by Senator John Flanagan and Assemblywoman Ellen Jaffee.  As a breast cancer survivor whose later stage cancerous tumor was hidden from detection by dense breast tissue, I want to publicly thank all three offices for their efforts on this issue and for being willing to listen to one woman from Long Island and for working together to make sure that other women have the benefit of knowledge that I was never afforded.
While this new law will help by requiring that women are informed of the possibility that the density of their breast tissue could be concealing cancer from their doctor, it is vitally important that women throughout our state and our nation take the steps now to protect themselves.  The reality is that the vast majority of women are unaware of the impact dense tissue has on the likelihood they will get cancer and many are completely unaware of their own density and therefore unaware of their own elevated risk for breast cancer.
The efforts of Senator Flanagan, Assemblymember Jaffee and Governor Cuomo will provide many women with the knowledge they need and is a great sign of how government can work when it puts people first. A New York initiative has also led to introduction of a federal bill so women not lucky enough to live in NY still learn of their density.
I urge all women to educate themselves about breast density, please visit AreYouDense.org. For information about other state and federal legislation, visit: www.AYDadvocacy.org.
The new law in New York State requires mammography providers to include the following notification in the report provided to patients who are found to have dense tissue:

"Your mammogram shows that your breast tissue is dense. Dense breast tissue is very common and is not abnormal. However, dense breast tissue can make it harder to find cancer on a mammogram and may also be associated with an increased risk of breast cancer. This information about the result of your mammogram is given to you to raise your awareness. Use this information to talk to your doctor about your own risks for breast cancer. At that time, ask your doctor if more screening tests might be useful, based on your risk. A report of your results was sent to your physician."

The law takes effect in 180 days.
JoAnn Pushkin, Executive Director of Are You Dense Advocacy, Inc,  first learned of her own breast density on the same day she was diagnosed with breast cancer.  Both the New York State and Federal Breast Density Inform legislation were drafted at her request.  Pushkin received the 2011 NYS Senate Woman of Distinction Award for her advocacy work on this subject. She is now a full time unpaid advocate supporting Breast Density Inform legislation around the country.
See also: