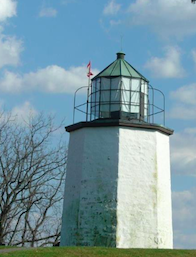 by the Palisades Interstate Park Commission
Today is National Lighthouse Day! It was on this day in 1789, that Congress approved an Act for the establishment and support of lighthouse, beacons, buoys and public piers. In celebration of the 200th Anniversary of the signing of the Act and the commissioning of the first Federal lighthouse, Congress passed a resolution in 1989 designating August 7th as National Lighthouse Day.
Did you know that the Stony Point Lighthouse, built in 1826, is the oldest lighthouse on the Hudson River and was in operation for 99 years before it was replaced by an automatic beacon? De-commissioned in 1925, it now stands as a historical reminder of the importance of lighthouses to commerce on the Hudson River.
The Stony Point Battlefield preserves the site of the last major battle of the American Revolution in the Hudson River Valley. Tours inside the lighthouse are available Wednesday to Friday during Museum hours, according to weather conditions and availability of staff.
Special Lighthouse Event on September 9, 2012 at 12n-4p
Celebrate the history of lighthouses on the Hudson River. Tours of the lighthouse will be given throughout the day. 19th century maritime music and storytelling will be performed by Balladeer, Linda Russell and Storyteller Jonathan Kruk in the shadow of the lighthouses. A costumed interpreter, portraying Lighthouse Keeper, Mrs. Nancy Rose, will host a tea party for visitors. Free with $5 parking fee. Please call (845) 786-2521 for more information.