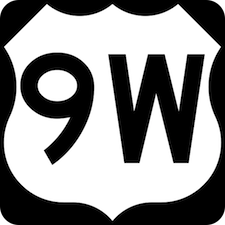 by Marilan Lund
Last week, the New York State Department of Transportation (NYSDOT) began to place new Share The Road signs along 9W between Nyack and Piermont in response to the June traffic fatality of Mount Ivy cyclist Janet Martinez. On Monday, a 27-year old Nyack resident, Eric Zayas, died in an early morning traffic accident with another vehicle not far from where the Martinez occurred. Although local residents and cycling advocates say the new signs are a good start, many have been asking the NYSDOT for years to look at lowering the 40 mph speed limit in a residential neighborhood where cars routinely drive 55. Almost 600 people have signed an online petition at Change.org to lower the speed limit. Earlier this month, the Village of Nyack passed a resolution asking the DOT to lower the speed to 30 mph on 9W where it passes through Nyack.
As a Nyack resident here since 1978 and someone who drives 9W every day, I think the NYSDOT is being disingenuous in its stated reasons for not lowering the speed limit.
A comparison of the speed limits on different parts of 9W as well as on Route 9 in Westchester reveals that 9W between Sparkill and South Nyack is about the only section of 9W that is 1) continuously curving, 2) narrow with sections where there is little or no shoulder, 3) fully residential on both sides of the street, 4) has parked cars and trucks (such as the many landscaping trucks) where is no provision for parking, and 5) active bicyclists, who will continue to use it, notwithstanding new signage. And yet our speed limit is higher than many other stretches of road that seem far safer to me.
Our local police readily admit admit they make no attempt to enforce the speed limit because they don't think there is any place to set up a checkpoint and the shoulders aren't wide enough to pull over offenders. But as a local resident, I know there are numerous places a police car could be parked to send a message to speeders to slow down or get ticketed.
The issue of enforcing the current speed limit and truck ban is something we can focus on immediately. It would provide increased safety for everyone, including bicyclists, while the speed limit can be discussed and studied in a thoughtful way. In recent years there has been a marked increase in huge trucks (plenty of 18-wheelers) — many of which violate the 10-ton limit for this roadway. Many of the vehicles I see '€" including oil tankers and car-carrying trucks hauling 8-10 vehicles '€" surely could NOT be en route to local destinations (which would exempt them from the ban).
The NYSDOT doesn't appear to support the ban on trucks, testified to by the fact that there is no longer a sign on the South end near the state line and the sign on the North end (near Nyack Hospital) is crumbling and illegible.
Marilan Lund lives on Route 9W in Upper Grandview, NY.
See also: