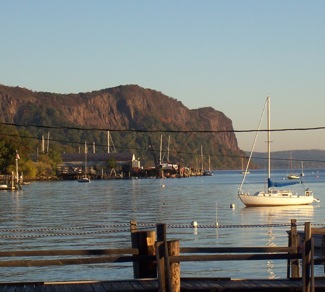 by Loisa Fenichell
Where North Broadway in Upper Nyack ends, Nyack Beach State Park begins, offering 76 acres to leisurely stroll, jog, walk your dog or just sit and take in the magnificent Hudson River. In 1907 The New York Times described the Hook as '€œa pleasing combination of nature-hewn rock, evergreen, and sloping walls of dense foliage.'€ But it's so much more than just beautiful scenery: flowing through each crevice of the native red sandstone is an abundance of history.
Local red sand stone, also known as quarry stone or freestone, was discovered at Hook Mountain in 1785. '€œIt was the first of the quarries to be bought in New York,'€ says Timothy Englert, a former development specialist for the Palisades Interstate Park Commission (PIPC).
Initially, the stone was only used locally in buildings such as the Upper Nyack's Old Stone Church, built in 1813. Soon the distinctive red sand stone was being transported by boat and by barge along the Hudson River to New York City and beyond.
'€œQuarrying activity reached its height from 1820 through the 1830s,'€ says Win Perry, president of the Historical Society of the Nyacks. By 1838, more than 30 quarries operated from Grand View to Upper Nyack. Business began to decline by 1845 when higher quality stone began to be mined in Connecticut and New Jersey.
Residents of Upper Nyack were complaining about the noise coming from the Hook Mountain quarry in 1898, but it took the resources of John D. Rockefeller to bring a close to mining operations. Englert says Rockefeller purchased the property to put an end to '€œthe blasting noise, dust, and ghastly scars to the majestic highlands of the Hook." Kykuit, the Rockefeller estate, was located just across the river in Westchester.
Rockefeller and his son worked with George W. Perkins, the founding chairman of the newly formed Palisades Interstate Park Commission, to purchase the quarries on behalf of the citizens of New York and New Jersey halting work in the mines forever. In the 20 years following the founding of the PIPC in 1900, ball fields, a beach area, and picnic areas were introduced. A concession stand and locker rooms for those swimming at Nyack Beach were added during the Depression years.
The loud, dirty and dusty Hook Mountain mining history is now just a memory, replaced by a recreation area enjoyed by many where few know of its former mining operations. One of the greatest pleasures of living near Nyack today is is the opportunity to enjoy a walk, run or bike ride up the hill to Rockland Lake or up the river to Haverstraw. School groups often visit The Hook to conduct experiments in marine biology and the ecosystems of the Hudson River and recreational fishermen can often be seen casting for fish in the river. This rare access point to the Hudson is a testament to the vision of the Rockefeller family and the founding members of the Palisades Interstate Park Commission.