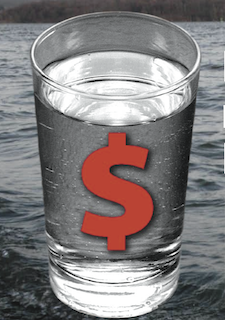 by Robert Kecskes
I've been reading with interest the debate over the proposed United Water desalination plant in Rockland County. Based on my 35 years of experience, Rockland County does not have a '€œwater supply'€ problem; rather, it has a '€œwater irrigation'€ problem.
During hot, dry summers, United Water's demand nearly doubles. These peaks are primarily due to large homes and businesses that irrigate their lawns. If Rockland County is anything like suburban New Jersey, less than 10 percent of homes and businesses irrigate and cause these peak demands. Watering a larger home's one-acre lawn will use 8,000 gallons of water a day. That's enough water to meet the needs of nearly 30 homes that do not irrigate!
If not for these large demands caused by a small portion of the County's population, United Water can likely meet the County's current and projected water supply needs without building the desalination plant,. Reducing or even eliminating these peak demands would probably dispose of need for the multi-million dollar plant.
This desalination proposal should not be advanced until all conservation alternatives have been thoroughly and impartially considered. A water audit of these larger users could lead to recommendations that could greatly reduce peak usage. The rest of Rockland County's residents and businesses should not have to see their water rates double (or more) so that these large users can continue to irrigate without restraint.
Robert Kecskes is the retired manager of regional water supply planning for the State of New Jersey.