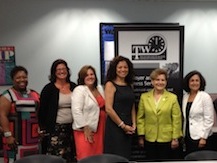 by Ellen Jaffee, NYS Assemblywoman 95th District (D-Suffern)
Today in New York State more than one million households are headed by women who are solely responsible for the economic security of their families. And yet, on average, a woman working full-time in our state earns $40,584 a year, while a man working full-time earns $49,174.
For these hard working women and their families this $8,290 annual disparity often means the difference between living self-sufficiently and falling into poverty. In fact, 26 percent of households headed by women in New York State live below the poverty level.
I am equally alarmed by the fact that jobs traditionally considered to be '€œwomen's work'€ pay significantly less than those jobs traditionally performed by men. Addressing occupational segregation is a critical aspect of eliminating the gender wage gap because income inequity isn't just a case of economic unfairness; I believe it's a matter of economic injustice.
That's why I am proud to have sponsored (A9020-B), the first legislation of its kind to become law in New York State. And I applaud Governor Cuomo for signing the workforce training bill it will expand workforce assistance and training programs for women so they qualify for higher paying jobs, including those jobs that have traditionally gone to men. It will also give women the information they need to make better job decisions and career choices not only for themselves but also for their families.
The new law, effective immediately, will ensure that women who visit state workforce training centers will be informed of higher-paying jobs traditionally held by men that they may have been steered away from in the past.
More specifically, it will add a work force training program in the Department of Labor. The training program will include current information about careers that offer a higher salary and compensation; counseling, skills development and training that encourage women to seek jobs and a higher earning potential.
Equipping women job seekers with this knowledge will help them reach their full earning potential and break down barriers in the workplace for all women who want to increase their employment opportunities and their paychecks.
I would especially like to thank Kelli Owens, Director of Government Relations and Public Policy, YWCAs of the Northeast, for her steadfast advocacy on this groundbreaking legislation.
Assemblywoman Ellen Jaffee represents New York's 95th District including Orangetown and parts of Ramapo, New York.
A9020B-2011: Establishes workforce guidance and information for women

Workforce guidance  and  information  for  women  policy.  The department  shall  provide guidance to local workforce investment boards and staff, to enable them to better educate and inform  both  women  and men  about  higher  paying jobs and careers including jobs traditionally dominated by men.  Such guidance shall promote program services for  job seekers that provide:

current  information about compensation for jobs and careers that offer high earning potential including jobs that are traditionally dominated by men
counseling,  skills  development and training that encourage both women and men to seek employment in such jobs;
referrals to employers offering such jobs
current local labor market information regarding the  gender  wage gap  and specific self-sufficiency rates for families living and working in that local labor market.