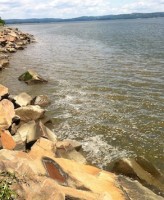 Ironman U.S. Championship officials will make a decision on Friday morning which will may literally and metaphorically stink. Westchester County officials have approved dumping millions of gallons of raw chlorinated sewage into the Hudson River while a sewer line is being repaired about in Tarrytown, 15 miles North of where contestants in the US Ironman Championships are scheduled to swim 2.4 miles on Saturday.
The 2500 Ironman contestants have been told there's a chance the swimming leg of the competition, schedule to be held near Ft Lee NJ, may be cancelled. Participants will also run a 26.2 marathon in Manhattan and bicycle 116 miles from the George Washington Bridge to Bear Mountain in the South Bound lane of the Palisades Interstate Parkway. Motorists should make alternate travel plans on Saturday Aug 11 as the PIPC will be closed to Southbound traffic from 3a-7p from Exit 18 (Bear Mtn) to the GWB.
The Rockland County Department of Heath issued a warning on Thursday to swimmers, boaters, kayakers and wind-surfers to avoid contact with the Hudson River from Nyack Beach State Park (Hook Mountain) and points South.
Riverkeeper estimates that up to three million gallons of sewage could be released into the Hudson each day until the plant is back online. The environmental group is taking water samples and will release its results on Friday.
Photo: Nyack Beach State Park. Sewage hugs the shoreline after stormwater from a heavy rain overflows into the Hudson. Credit: Candice Robins