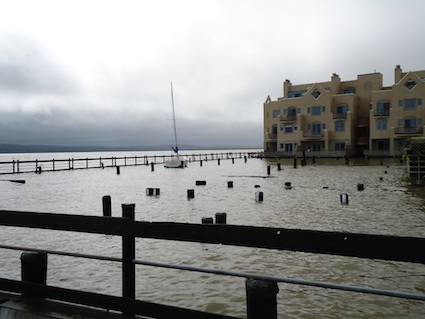 Nyack, Aug 29 — One year ago, Nyack  was taking stock of the damage caused by Tropical Storm Irene on Sun Aug 28, 2011. In addition to flooded roads and basements, winds greater than 46 mph knocked out power for days to 120,000 customers in the Orange & Rockland service area. Most major highways where closed during the storm making it difficult for repair crews, police, fire and ambulance personnel to respond to emergencies. The New York City subway system was shut down during the storm for the first time in its history.
According to O&R, Irene was the second worst storm in the company's 100 year history affecting 40% of their customers and causing damage at 5400 separate locations. Although 95% of customers had service restored by in five days, some homes and businesses were without electricity for up to eight days. County officials estimated the total damage from the storm to be in the range of $15 million.
Despite pre-Irene preparation that included hiring and deploying 60 repair crews from Michigan before the storm, O&R was widely criticized for their response. "The Town of Clarkstown received hundreds of calls and e-mails from angry residents who were unable to contact O&R or who did not receive helpful or correct information when they did," said Clarkstown Supervisor Alex Gromacklast April. "Estimated restoration times were slow in coming, inaccurate and contradictory."
The Con Ed subsidiary responded with changes to its call center, improvements to its online outage maps for customers, and enhanced procedures to determine when service will be restored.
O&R's phone system — which receives a weekly average of about 15,000 calls — was overwhelmed with 210,000 calls during Tropical Storm Irene.

Last May O&R said they were expanding the number of incoming lines from 92 to 368 and were installing a new interactive voice response system to give status updates that with estimated service restoration times. In the event O&R call centers become overloaded in the future, calls will be routed to utilities outside of O&R service area to handle the overflow. Additionally, a new multi-platform outbound call system was scheduled for installation this Summer to deliver time sensitive information to customers and employees on virtually any electronic device.
Source: Orange & Rockland