Backyard Cinema has been rescheduled for Sat. Aug. 11 at 8:30p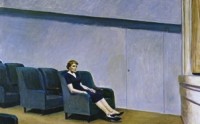 '€œWhen I don't feel in the mood for painting, I go to the movies for a week or more," Edward Hopper once famously said. "I go on a regular movie binge.'€ If you are feeling that way tonight, stop by the Edward Hopper Arts Center at 8:30p and see Richard Gere, Sam Shepard and Brooke Adams in "Days of Heaven.'€
The outdoor movie series launches the second annual Hopper Happens festival, organized by Hopper Center Artist-in-Residence Kris Burns. '€œAs I was putting together last year's event, I came across Edward Hopper's remarkable and enduring connection to film over and over again,'€ says Burns.   She cites a NY Observer story that documents the connection between Hopper and the cinema.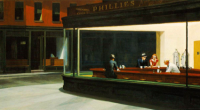 Hopper was inspired to paint his most famous work, Nighthawks after reading Ernest Hemingway's story The Killers. In 1946, when Robert Siodmak made the film version of The Killers, he turned to the painting creating Hopperesque scenes in lonely hotel rooms and isolated gas stations.
Last year Hopper Happens brought flash mobs, pop-up projections of paintings and films and readings. The festival cresendo-ed with a drive-in movie style showing of another Hopper influenced film, Alfred Hitchcock's classic Psycho in Nyack's municipal parking lot.  This year, the venue is a little more intimate: the backyard of the home where Edward Hopper grew up on North Broadway in Nyack.  Other Hopper Happens events will take place throughout the village between August 10 and August 31.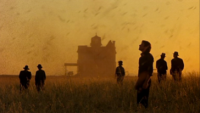 The first film in the 2012 series is Days of Heaven directed by Terrence Malick.  The 1978 release was the last film before Malick took a 20-year hiatus. Set in the early 20th century, it tells the story of two poor lovers, Bill and Abby, as they travel to the Texas Panhandle to harvest crops for a wealthy farmer.   Malick's preference for filming at dusk and a solitary house that is a central visual element in the film and that is reminiscent of Hopper's painting '€œHouse by the Railroad'€ show the influence of Nyack's native son.
Admission is free but you'll have to bring your own chairs or blankets to enjoy the movie. The virtual curtain goes up at 8:30p or when it's dark enough to see the show.  This program was made possible with the support of the Edward Hopper Arts Center, Rivertown Films and the Nyack Public Arts Committee.