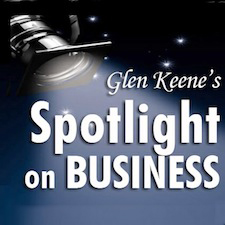 by Glen Keene, JD, CPC
Attorney, certified professional coach and Internet TV show host Glen Keene gives practical tips to businesses and to future entrepreneurs to Enlighten, Engage and Empower to achieve success and full potential.
I have begun my canvassing local business owners to discover some of the more important issues that they face as business builders. My expectation, when I started this process, was that I would hear much about the difficulty in increasing sales, improving the bottom line and the like. With the economy continuing it's slow, bumpy lurch forward and unemployment seemingly at a standstill it appeared only logical that I would speak to some owners who are struggling to keep their doors open.
Walking through town on a Friday or Saturday night, especially in the summer, one finds a buzz of activity. Most of the restaurants have lots of customers. Some are packed to the rafters, others quietly busy, a rare few with only a handful of diners. Most of the people I spoke to at the restaurants are managers, not the owners. Of course, managers usually have a handle on the pulse of the business they operate. Based on their answers in our discussions the consensus is that business is slower than it was several years ago, but better than it has been the past few years. People enjoy dining out. They also must enjoy visiting a location that gives them a variety of places to choose from.
As for the challenges, those questions were met with what I would describe as standard answers. Serving well prepared meals and drinks keep the patrons coming back. I was not finding what I was looking for. I decided to venture out during the day to speak to the retail shop owners, most of who are at their businesses when open, for their perspective on the topic at hand.
Alas, my ears hurt and I have a headache. Most talked about the singular issue that seems to define the Village that I and so many reading this call home, the parking '€˜problem'. Lack of parking spaces is not at issue. It is not the new parking regulations that necessarily generated the flying sparks. Although some owners said that their customers were often confused about when they had to pay and when not to pay there was a bigger problem for the owners. It was customers who complained that they could not find a parking spot directly in front of the store. Is it the weather or just me.
Pulling out some of what's left of my hair I pressed on with my central inquiry. Asking '€œWhat business related problems have you as a business owner faced in starting or running your business and how did you overcome them'€? This lead to the second most prominent answer, the Streetscape project. Another answer, I don't know where in the pecking order it lies, was the lack of coordinated communication between business and government on all levels.
It is clear I was not asking the questions correctly or not properly explaining what I was looking for. I guess that in my attempt to get to as many people as I could in a short period of time I did not take enough time to explain the points I wanted to make.
One of my favorite movie lines is in '€œGalaxy Quest'€ with Tim Allen, Sigourney Weaver and Alan Rickman, '€œNever give up, never surrender!'€ I have not become the person I am by giving up, not taking the challenge. I will hit the streets of Nyack again in the next few weeks, allotting the time necessary for those I ask to understand what I'm asking of them. The Fall is coming soon and my hope is that with cooler weather cooler heads will prevail.
Glen Keene's Spotlight on Success' is streamed live every Wednesday at 6p from RocklandWorldRadio.com. Glen's guest on Wednesday August 22 is Eric Litwack Associate Professor and Independent Ethics Consultant at Queens University, Brighton, UK.

Email glen@attorneykeene.com, visit GlenKeene.com or call 845-445-2411 with questions about Glen's column, his show or his practice at 99 Main Street in Nyack, NY.
No legal advice is intended or implied herein.