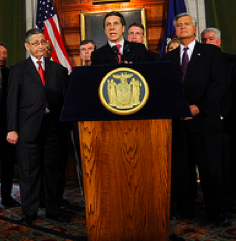 by Larry M. Elkin
Puppet shows can be great fun, but most of us prefer it when the marionettes are wooden dolls rather than elected officials.
In New York, however, Gov. Andrew Cuomo is a deft puppeteer, while other elected officials seem content to let him pull the strings.
The Wall Street Journal reported that at least three officials used nearly identical language when introducing the governor during Cuomo's recent statewide tour to promote his budget plan. The language came from what were called '€œsuggested talking points,'€ though it appears that the governor's aides provided a fully-formed text that some officials used verbatim.
'€œThis is standard operating practice for any governmental or political office at any level of government, and anyone who has worked in one, knows that,'€ Josh Vlasto, a spokesman for Cuomo, told The Journal. Officials who followed the script said they did not feel any pressure to use it, and that they agreed with the content.
Cuomo is not a bad governor. He has gotten things done in Albany, one of the most dysfunctional capitals in the country. He almost single-handedly got the state Legislature to approve gay marriage. He got a budget in on time in 2011, the first on-time plan in New York in five years, and again in 2012. And even if he is not a tax cutter in the Ronald Reagan mold, he still serves as a check on the Democratic-controlled state Assembly's worst instincts.
I have no big problems with Cuomo in substance. In style, it is evident that he is something of a control freak. His type of governance can only work in a state like New York, where politicians who have any measure of self-respect and independence are in chronically short supply.
The New York tradition of having all important decisions made by three men in a room '€" to wit, the governor and the majority leaders for the state Assembly and state Senate '€" is alive and well. Most other politicians (with a notable exception in New York City's politically and financially independent mayor, Michael Bloomberg) just do what they're told. In most places, legislators answer to their constituents; in New York, they answer to their party's leaders. This is partly the result of an insider-dominated electoral system that makes successful primary challenges next to impossible, partly due to gerrymandered districts that seldom permit real competition between the parties, and not least because legislative leaders have the power to control individual legislators' incomes, since pay varies with committee assignments and other responsibilities.
Local politicians don't owe their positions directly to Cuomo in the same way, but many of them clearly see him as a rising Democratic star to which they can hitch their wagons. The price Cuomo demands for a ride on his coattails is, apparently, absolute loyalty '€" down to scripting their reactions to his visits.
As Kevin Sheekey, a former Bloomberg deputy, told The Journal, '€œIn politics, it's always more important what someone says about you than what you say about yourself.'€
So when New York's governor wants someone to say something nice about him, he only has to pull the right strings. That's show business, Albany style.
Larry M. Elkin is President and Founder of Palisades Hudson Financial Group LLC. This article was originally published on  PalisadesHudson.com.