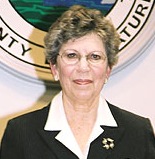 by Harriet Cornell
Like most sports lovers, I loved watching amazing athletes during the Olympics and, when Americans stood atop the podium with the Star Spangled Banner playing, I couldn't help thinking of all that went into that moment of triumph'€"the years of discipline and sacrifice on the part of the athletes and their families. As one who engaged in individual track and field events and played team sports in high school, I admit to great pride in the performance of women in these Olympic Games.
As we rejoice in the medals won by Americans, it is useful to retrace some history leading to the development of exceptional women athletes'€"including those in high schools and colleges right here in Rockland. The Civil Rights Act of 1964 which was written to end discrimination based on religion, race, color or national origin did not mention women, but re-energized the women's rights movement. Consequently, President Lyndon Johnson issued a series of Executive Orders notably EO 11375 of 1967 requiring all entities receiving federal contracts to end discrimination on the basis of sex in hiring and employment.
That Executive Order was used by a woman named Bernice Sandler, who the New York Times came to call the '€œGodmother of Title IX,'€ to fight for her job at the University of Maryland. She went on to issue formal complaints against many institutions on the basis of inequalities of pay, rank, admissions and much more. It was Sandler in 1970 who first proposed Title IX to Congresswomen Edith Green and Patsy Mink. They sponsored the bill in the House, while Senator Birch Bayh was the principal sponsor in the Senate. The original statute prohibited sex discrimination in any educational program or activity receiving any type of federal financial aid and did not speak directly to women's athletics. However, its implied inclusion of women's high school and college sports created controversy and led Senator John Tower to propose an amendment to Title IX excluding athletics from the law's provisions. The amendment was rejected and in 1975, President Gerald Ford signed regulations specifically including women's athletics at federally-funded high schools and colleges under the sexual discrimination prohibition provisions of Title IX. Schools across the country were given three years to comply with these regulations.
The law continued to have its opponents and in 1984, the Supreme Court (Grove City v Bell) struck down Title IX's coverage of athletics with the exception of athletic scholarships. However, Congress enacted the Civil Rights Restoration Act of 1987, over the veto of President Ronald Reagan, which restored the athletic provisions.
In their August 2012 issue, American School, a journal for education leaders, reported that when Title IX was enacted in 1972, an estimated 294,000 girls participated in sports in high school. This represented 3% of the total number of female students. By 2008, this number had risen to more than 3 million girls and more than 30% of female students. By comparison, male participation in athletics in high school has held steady at around 50% for the life of Title IX.
And these amazing statistics bring us to the 2012 London Olympics where female athletes take home 58 of the 104 medals awarded to the US, and 29 of the 46 gold medals. In fact, it's been pointed out that if U.S. women were their own country, they would have come in third in the Gold Medal Count!
In the County Legislature we often honor school teams that have won championships, but mostly we honor these young men and women for working hard and overcoming challenges to realize their goals. For women athletes, this was made possible in no small part due to the tenacity and commitment of people they never knew, like Bernice Sandler.
This year as we celebrate the 40th anniversary of Title IX, the law which has changed the face of women's sports in the United States, we can thank all whose vision helped to level the playing field for women in the classrooms, the boardrooms, and the athletic arenas.
Harriet Cornell is the Chairwoman of the Rockland County Legislature.
See also: