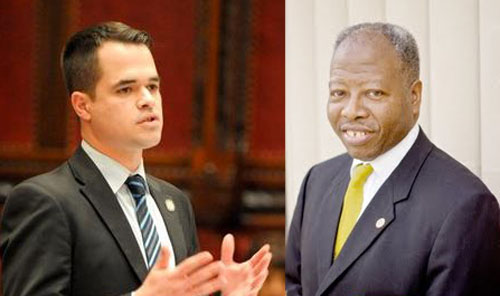 by Cliff Weathers, NYaltnews.com
Rockland County, Aug 8 — The Commissioners of the New York State Board of Elections have ruled that 46 percent of the petition signatures gathered for Democratic State Senate challenger Grant Valentine were either invalid, illegal, or forgeries.
The Board of Elections found that 732 of 1591 of the signatures on Valentine's petitions were not acceptable. Valentine was challenging Democratic State Senator David Carlucci in the 38th District, which includes Rockland County and the Westchester town of Ossining. The primary for State offices is September 13.
Valentine can still appeal the findings of the Commissioners to the State Supreme Court, but political sources tell NYaltnews that the success of such an appeal is '€œhighly unlikely.'€
Valentine also ran for State Senate in 2010 but failed to secure enough petition signatures to get his name on the ballot. Carlucci went on to defeat Rockland County Executive C. Scott Vanderhoef, a Republican.
Carlucci is being challenged by Democrat-turned-Republican Janis Castaldi. Carlucci will also appear on the Independence and Working Families Party lines.  The Conservative Party dropped its support of Castaldi due to her being married to another woman. Conservative Party Chair Michael Long has been a vocal opponent of marriage equality in New York.
Cliff Weathers publishes NYaltnews.com, where this article originally appeared.
Photo: NYS Senator David Carlucci, Grant Valentine. Credit: NYaltnews.com