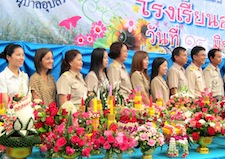 by Andrea Eisinberg
When I arrived in Thailand last October, I immediately became the token American girl of my TEFL course. Simultaneously trying to master British English and Thai was amusing, but I figured that surely it was a fluke 98% of my course were from every other English-speaking country besides my own. And so begun the never-ending search for the Americans.
While I have had sporadic run-ins with American teachers and travelers in Southeast Asia, they are in the minority. Traveling in this part of the world, it's possible to go weeks without seeing another U.S. citizen.
I can only help but wonder'€¦. where are all of the Americans?
For such a massive population and international presence, we are severely under-represented out here.
I can appreciate the explanations for why this is so: the U.S. is a lot further from Southeast Asia than Australia or Europe. With the standard two-week holiday Americans are allotted, a trip to the Far East is highly impractical. Furthermore, traveling simply is not given the same priority in our country as it is in others.
I'm not the only one who has noticed the American absence. While exchanging the standard small talk in hostel dorms, fellow travelers typically respond in one of two ways when they hear my unmistakable American accent: 1) Wow! You are the only American I've met out here! or 2) Why don't Americans don't travel more? (as if I have all the answers)
When I explain that many companies only give two-weeks paid vacation, Europeans and Australians alike are appalled that the luxurious 4-8 weeks they have isn't some type of international standard.
My British friends claim that taking a gap year to travel after university is not only accepted and encouraged in their society, but that if you don't opt to do so, you're weird.
Come on Yanks, we are seriously getting gypped. Isn't there a lot more to life than working?
In American culture, it is engrained in our minds from the get-go that you live to work. There is no period of time dedicated solely for travel.
The vast majority of my college peers jumped right into a cubicle of the corporate world. Nearly a year on the other side of the globe, and I still feel the pressures of American society telling me that I, too, should be saving for my 401k. While many of my friends yearned to prolong the inevitable, the recent graduates and their parents saw no other option in light of their student loan burden.
And so, most immediately changed out of their graduation gown into business attire and joined the rat race: struggling to find a job in a slow-growth economy, moving back in with their parents or living paycheck to paycheck hamstrung by NYC rents and student loan debts.
But, what if I told you that complete financial independence right out of college is achievable?
Many of my TEFL peers came to Asia seeking that exact element they couldn't find at home: they don't have to ask mommy and daddy for help. If you choose the right opportunity abroad, it is extremely feasible to simultaneously work, travel and start making a dent on those student loans. Or, if you want to travel but not necessarily work abroad, ask yourself what is really stopping you from quitting your job to travel?
While many U.S. citizens do work to meet basic survival needs, some are just not willing to make the sacrifices (namely, material goods) necessary to travel. When it comes down to real determination, money is only an excuse.
Corporate America isn't going anywhere — if that's the life you want, it will be waiting for you after an adventure abroad. Yet, there is only one window of opportunity that you are young and responsibility-free. More money can always be earned. In the big picture, will a short period of travel or living abroad really dampen your career?
The distance and our meager vacation days aren't changing anytime soon. But one thing that is within our control is transforming travel into a priority.
Work to live '€" not the other way around.
Andrea Eisinberg is a recent Ithaca College graduate who has spent the last 10 months living in Thailand teaching English in an attempt to nurture and fund her travel disease. You can read more of her stories at StoriesFromTheEast.blogspot.com.