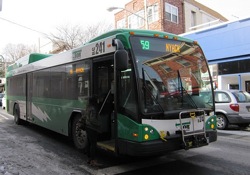 Sometime in the near future, the 3.5 million annual riders on the Tappan Zee Express and TOR buses will be able to go online to find out when the next bus will actually arrive. You can get schedule info today from sites like tzxBus.com and maps.google.com — but in the future you can see real time route info, courtesy of a of $2.4 million grant from the Federal Transit Administration (FTA) to fund Intelligent Transportation Systems (ITS) for TZx and Transport of Rockland buses.
Internet-based, real-time information (Next Bus data) and wayside electronic signs at major bus stops  with expected times are part of the planned improvements. This technologically-advanced equipment will improve and passengers the speed with which passengers and board and leave TOR and TZx buses.
The first phase of this project, scheduled over the next several weeks, will be to install fare boxes on all TOR buses, which currently have only fare registers.
The enhancements will be funded through the U.S. Department of Transportation FY2012 Bus Livability Program. The technologically-advanced equipment the County will be able to purchase will improve and speed boarding and alighting, and enable the County to enhance customer service and operations.
Additional ITS equipment planned for TOR and TZx include scheduling software, enhanced Computer- Aided Dispatch (CAD)/Automatic Vehicle Locator (AVL) systems, fixed-end radio equipment and servers and Automatic Passenger Counter (APC) systems. The County has already implemented an introductory phase of a CAD/AVL system, which includes on-board announcements and signage on TOR and TZx buses.
In addition to bells and whistles to speed your future commute, some of the wheels will also be moving faster, as Governor Cuomo and Rockland County have reached an agreement to run the Tappan Zee Express in a  dedicated lane on the new Tappan Zee Bridge.