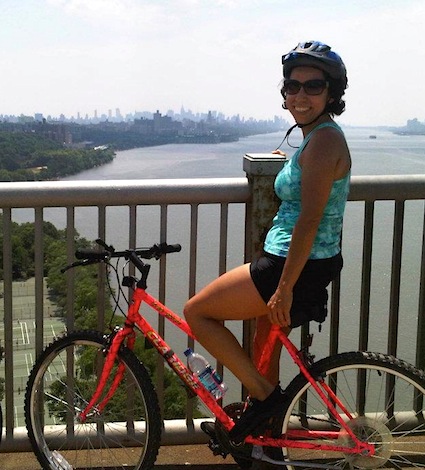 by Ray Alicea
On June 10, my Aunt Janet decided to enjoy her day off at Rockland Lake on a beautiful afternoon under clear skies. She took her bicycle along and went for a casual Sunday ride on 9W, deciding to ride on a road she had not previously traveled but knew was popular with cyclists. Tragically, Aunt Janet missed a tiny sign hidden behind some bushes telling her to detour away from a dangerous part of Route 9W. She was subsequently struck and killed by a car in Upper Grandview.
Alone for the first time on her bike, Aunt Janet went to Rockland Lake after attending church services. Route 9W is a very popular road with many bikers — many parts of the road have wide shoulders and she knew this route would take her through the scenic river towns along the Hudson. Tragically, Aunt Janet missed the Bike Route 9 left turn sign which was obscured by several bushes at the stoplight at Christian Herald Road and 9W in Upper Nyack. Bike Route 9 diverges from 9W at this point, meandering through the Nyack river villages, Grandview, Piermont and Sparkill before rejoining 9W by near Tallman State Park.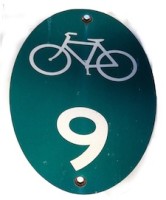 About one mile farther down the past where she should have turned, the road conditions worsen dramatically as 9W climbs up the side of Clausland Mountain. On this stretch of road, near Treeline Terrace in Upper Grandview, Janet Martinez was struck from behind by a Sparkill motorist traveling at the posted speed limit of 40 mph.
The local residents that live along 9W in Upper Grandview, Piermont, and Sparkill have been trying to get the speed modified by the DOT for years without any significant progress. This narrow mountain road has no shoulders, no space for passing and over 100 steep driveways for 164 homes on either side of 9W. Their concerns about safety were tragically validated by yet another avoidable accident – this time fatal. It wasn't the first time — but hopefully it will be the last.
I do not wish what has happened to this Rockland resident, her two daughters, her one year old grandson and the rest of our family to happen to anyone else.
We have signs warning residents who use the roads – DEER CROSSING, FALLEN ROCK ZONE, SLIPPERY WHEN WET. The Bike Route 9 signs on the most treacherous section of 9W in Rockland County need to be improved. I'm asking the Town Council to pass a resolution to ask the NYS DOT to fix the bike signage on 9W in Orangetown.
With the encouragement and assistance of our elected officials in Albany, we can work to address and support these concerns. We need a NEW review of the obvious safety issues on this two mile stretch that has had more than it's share of tragedy. Visitors to homes there are advised by their hosts to use their hazard lights one quarter mile before their driveways in order to avoid rear end collisions at what has become highway speeds. Additionally, there needs to be adequate signage to alert motorists and cyclists who find themselves in very real and dangerous conditions.
Most cyclists are drivers and most motorists are cyclists of one type or another.  Orangetown has a long and proud history of banding together as neighbors and families. I am asking the Town Council to get the attention and relief we desperately need and deserve. Modifications, additions, speed changes, zoning changes, education and enforcement all need to happen. Please work with us to address these serious concerns.
I will be persistent in continuing to organize, research and advocate for this cause. I look forward to working with the Town Council and the DOT to find a fair and reasonable solution. I owe this much to the memory of Aunt Janet who cannot do this for herself.
Ray Alicea is an Orangetown resident and the nephew of Janet Martinez, who was fatally injured in a car accident while riding a bike on 9w on June 10.