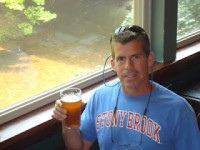 by Mike Fitzgerald
There is a movement afoot in bars all over America.  Where, a few years ago, you would see three or four taps of the familiar Bud or Miller Lite, now they have multiplied.  Now, you might see a dozen or so handles in all kinds of shapes and sizes: sharks, spoked wheels, and skeletons.  These taps (or faucets as they are called in the industry) pour craft beer from Dogfish Head, Magic Hat and Rouge Brewery respectively.  Though not household names yet, these craft or microbreweries are slowly making inroads into a beer market dominated by just a few players.
A craft brewery is small, traditional and independent.  Of the 2000 breweries in the US,  over 90% of them would be classified as craft brewers.  According to the American Brewers Association an American craft brewer is:
Small: Annual production of 6 million barrels of beer or less. For comparison, Anheuser- Busch produced 160 million barrels in 2006.  In 2008, they were acquired by the Belgian-Brazilian brewing company InBev, so recent production statistics for the A-B subsidiary may be hard to find.
Traditional: A brewer who has either an all malt flagship (the beer which represents the greatest volume among that brewers brands) or has at least 50% of its volume in either all malt beers or in beers which use adjuncts to enhance rather than lighten flavor. Major US brands use corn and rice as adjuncts which are cheaper than malt and lighten the taste for American consumers.
Independent: Less than 25% of the craft brewery is owned or controlled by an alcoholic beverage industry member who is not themselves a craft brewer.  Many familiar US and imported beers you might see in the supermarket beer isle are owned by A-B or Miller/Coors.  For example, A-B owns Shocktop, Michelob, Becks, Corona and many more.  Miller/Coors controls Bluemoon, Leinenkugel, Fosters, Molson and about two dozen others.
Author of  Tri-State Beer blog, Mike Fitzgerald is a high school science teacher in Nanuet who has studied the different hops, yeast strains and recipes that go into making craft beers. He and his wife have been on their own personal "beer odyssey" over the last few years visiting breweries, craft beer stores, bars and festivals. They will open their own craft beer store, Growler and Gill, in Nanuet in the near future. To find out more about their progress, visit the Growler and Gill Kickstarter page.