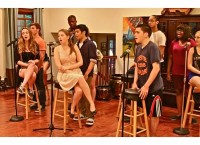 by Donna Schmidt
'€œI love these people, they are so genuine,'€ exclaimed Michaella Vilsa, talking about the cast of I Want it All, which was written, conceived, and choreographed by Deborah Ivry and Cal Chiang. Vilsa is one 13 talented teens in the production who sing, dances and exude talent.
Ivry, after having spent more than a decade in New York doing industrials, soaps, jingles, voiceovers and a television series moved with her family to Nyack. About 15 years ago, Ivry founded the award-winning jazz/pop vocal group called High 5. Ivry is also a private voice and vocal teacher. '€œGleeful Productions'€ arose out of collaboration with her friend and colleague Cal Chiang. The two wanted to create a unique musical and educational performance opportunity for talented teens. This will be Gleeful Productions first show.
Chiang has directed and choreographed many musical theater productions in Westchester, Bergen and Rockland Counties for 25 years. Years ago, It was at Elmwood Theater in Nyack, where Chiang directed many shows, that he met Ivry.
The show, which is a '€œGlee'€ type production, captures adolescence with all the risks, excitement and ever changing relationships. The actors and actresses come from New City, Nyack, Orangeburg, Airmont, Nanuet, Monsey, Spring Valley, Tomkins Cove and Congers.
"I Want it All is different than all the other productions I have been in," said 16 year old Madison Deming. "The production seems to connect with each and every one of us." Deming says she has been singing since she could talk. "The great songs and lack of a concrete scripted pilot allow us to use ourselves as the characters and connect with the show in a way that can't be done with a conventional musical."
The songs in this show will sometimes make you smile and often bring a tear to your eye. Emma Swingle, the youngest of the cast, Madison Deming and Carolyn Wright sing a soulful and very believable '€œEverything is Beautiful at the Ballet" from A Chorus Line. The lyrics are very fitting for a group of outgoing, sometimes precocious, young adults trying to find their way in life:
Mother always said I'd be very attractive When I grew up, when I grew up.

Diff'rent," she said, "With a special something and a very, very personal flair."

And though I was eight or nine, though I was eight or nine, though I was eight or nine, I hated her.
You can see I Want it All at Hudson House in Nyack on Thursday July 26 at 8pm; Friday July 27 at Nyack Village Theater 94 Main Street at 8p; Saturday July 28 at Rockland Conservatory of Music 45 S. Main Street Pearl River at 8p and at Elmwood Playhouse on Sunday, July 29 at 7p
 Tickets are $12 except for Elmwood Playhouse which is $15. For more information about any performance, call 845-688-4292. The Sunday, July 29 performance is by reservation only at 845-353-1313.