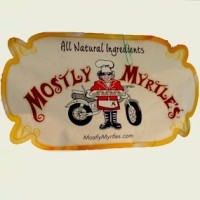 by Donna Schmidt
Mostly Myrtles, a busy baking business in Rockland County, creates hand-rolled baked goods from scratch to provide a unique texture. Owner Debra Sadowsky says crafting their products by hand sometimes results in baked goods that vary in size and weight — but Debra loves this quirky quality.  You can find Debra and Mostly Myrtles at the Nyack Farmer's Market each Thursday until late November.
Q: Why is there a motorcycle and a grandmother in your logo? 
'€œThat's my grandmother  — and she wasn't your typical grandmother. She was outspoken and strong. She dressed impeccably and could tell you all about her investments. Although she didn't actually ride a bike, I thought that visual fit her personality. Myrtle's parents were Russian Jews who made their way to Sweden. She loved to bake. Later, she lived  about 10 blocks from me and I would ride my bicycle to her house in Kansas City where she would teach me to make kichels.
Q: What is a Kichel?
My grandmother called the cookie that she baked a kichel.  A kichel  is actually a popular Jewish and Israeli thin sugar cookie made with eggs, oil and flour that are rolled out and baked until golden brown, sweet and crispy. My grandmother's cookie had cinnamon and was more of a biscotti type cookie.  Our Cinna Yum Biskooky was developed with this cookie in mind.
Q: What is a Biskooky?
When I first started out we called our cookies '€œbetter than a biscotti'€ but we needed a name so we came up with biskooky, so it is half biscotti and half cookie. They are twice baked like biscotti but with a much gentler crunch.
Q: Was your career always in baking?
No, I was an Occupational Therapist for almost 30 years.
Q: When did you start the company Mostly Myrtles?
In 2003 I started baking part time.  Then in 2007 I decided to go full time and I absolutely love what I do. I am very happy.  It is very hard work, but there are so many rewards. I often think that my grandmother is channeling passion and energy to me!
Q: How did you learn all about running a baking business?
I am so grateful.  I had so many mentors.  Pastry chef mentors, business people, I took a few classes and read and read and read about the industry.
Robert Ellinger was an inspiration to me and gave me very valuable insight into my business.  He was Executive Pastry Chef at the Metropolitan Opera, the United Nations, The Water Club and the Garden City Hotel. He now owns his own business called Baked to Perfection.
Q: When did you start creating Gluten Free baked goods?
Robert actually advised me to start baking gluten free three years ago. 80% of our product line is now gluten free.
Q: At Which Farmer's Markets do you work?
Nyack, Ramsey and Bronxville.  I have been at the Nyack Market for five years.  I love the face to face connection that I have with my customers. The kids love taking part in my taste tests. I am constantly redeveloping my line of goods to make them as nutritionally balanced as possible and taste tests are a good way to know if my clients like new tastes.
Q: What are your best sellers?
In the gluten free line, it is the Belgian Chocolate Chunk biskooky. The Raspberry Pistachio biskooky and the wicked good brownies are some of the most popular traditional baked goods.

Debra has studied with such elite pastry chefs and certified master bakers as Cyril Hitz, Ewald Notter and En-Ming Hsu. In 2008, she received a New York State Guild of Chefs award in the pastry competition cookie division for her Australian Ginger Biskookys. Look for Debra at the Nyack Farmer's Market or find her online at MostlyMyrtles.com.
Read about food and healthy eating in Eats of Eden, sponsored by the Nyack Farmer's Market. Hosted by the and the Chamber Of Commerce Of The Nyacks, The Nyack Farmer's Market is open Thursdays from 8a-2p in the Riverspace parking lot at the corner of Main St and Artopee in Nyack, NY from May through late November.