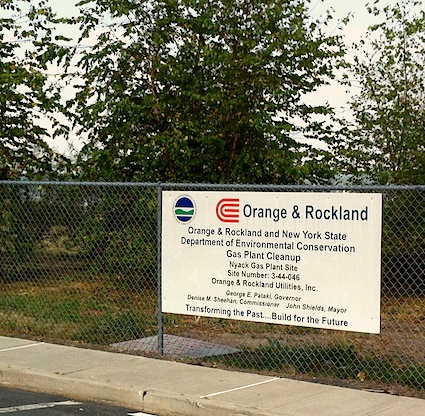 by Cassius Wilkinson
Just North of the Clermont Condominium, there is a picturesque field, overlooking the Hudson River on Nyack's waterfront. Its terraced greenery is contained within an eight-foot fence that bars entry. At first sight the field appears to be nothing more than an idyllic picnic location with a sign hanging from the fence explaining its chain-linked inaccessibility. This area is more than a vacant property; it's a New York State hazardous waste site, number 3-44-046.
The location was once home to a 19th century manufactured gas plant.  While the gas tanks and pressure gauges are long gone, its pollutants remain. The original gasworks service was established in 1852 as a small-scale operation that delivered gas through underground pipes to local clients.
In 1890, it was reorganized as Nyack Gaslight and Fuel Corporation and converted from coal to carbureted water gas. Later, the company halted production, operating only when consumer demand peaked. Despite infrequent production, the gas manufacturing process produced coal tar condensation that escaped from storage vessels and pipes, seeping into the surrounding soil on the banks of the Hudson River.
A manufactured gas plant was an industrial facility at which gas was produced from coal, oil and other feedstocks. The gas was stored, and then piped to the surrounding area, where it was used for lighting, cooking, and heating homes and businesses. The first MGPs in New York were constructed in the early 1800s, prior to the Civil War. Most were closed during the early-to-middle 1900s, and the last one ceased operations in 1972.  Gas from MGPs was used for all the same purposes that natural gas is used for today. In addition, in the late 1800s, gas was used for lighting prior to the introduction of electricity. — Source: Orange & Rockland
Because Orange and Rockland is a one-time owner of the property, the New York State Department of Environmental Conservation (DEC) deemed it a "potentially responsible party," assigning O&R to investigate and remediate the site.
The company has been involved in cleanup operations since 1996, spending a total of $15 million, according to O&R spokesman Michael  Donovan. Orange & Rockland also oversees  remediation of similar sites in both Port Jervis and Haverstraw.
The company has made progress at the Nyack site, beginning with a large-scale evacuation process six years ago. Village residents may remember seeing a large, ominous tent over the property in 2006. While the site appeared to be undergoing a frightening quarantine process, village officials said that wasn't the case. '€œThey were digging up all of the dirt beneath the tent and neutralizing it,'€ explained former Nyack Mayor John Shields, whose name is on a sign on that site along with former NYS Governor George Pataki. This process, known as in situ bioremediation, involves pollutants being neutralized by chemical agents on site. The soil remediation was completed in less than two years. The tents and heavy machinery are now gone, replaced by rose bushes and tall grass.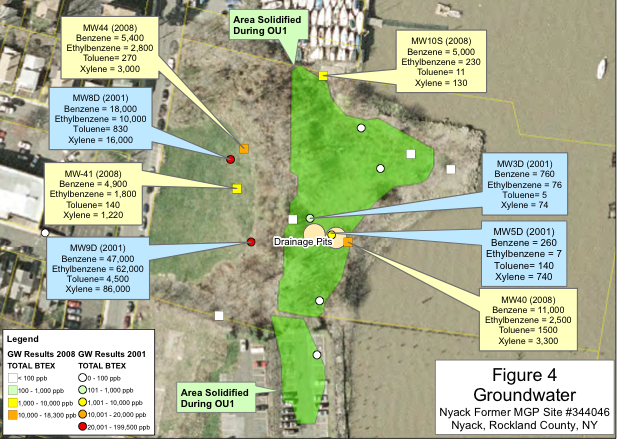 Remediation of the Hudson River shoreline is another matter.
According to the NY State Department of Environmental Conservation's 2011 Record of Decision on the site, '€œPersons who dig below the ground surface may come in contact with contaminants in subsurface soil.'€ Additionally, '€œpeople may come in contact with contaminants present in shallow river sediments while entering or exiting the river.'€ While O&R is scheduled to resume cleanup in Fall of 2012, for now the fence remains.
Sources:
See also:
Photo: Rockland Light and Power Company had a gas plant on Gedney Street, circa 1951. Credit: Nyack Library via hrvh.org