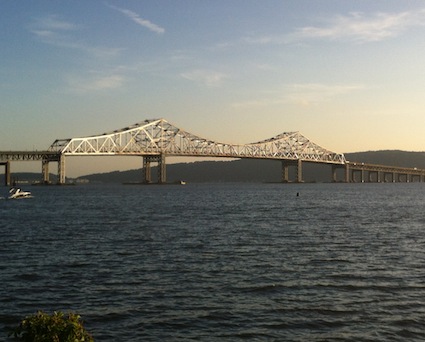 by Dave Zornow
On Monday, the governor of New York announced that 14 labor unions who will build the new Tappan Zee Bridge can't strike and will have to work 10 hour days and a 40 hour week without overtime. Construction companies cheered — as did labor leaders, too. For anyone who lived through the strikes and labor/management battles of the 60's and 70's, it was almost surreal.
"This agreement will save taxpayers hundreds of millions of dollars, while putting in place important protections for our workers," said NYS Governor Andrew Cuomo. "Replacing the Tappan Zee Bridge represents one of the largest public infrastructure project in the nation, and this agreement will allow thousands of New York's working men and women to secure good jobs building a new, safer bridge," he said.
The Project Labor Agreement (PLA) includes significant cost savings to New York state, including
$123 million by allowing management flexibility in scheduling the work week in four 10 hour work days
$59 million by permitting more apprentices than journeyman than is typically allowed in similar projects
$59 million by paying workers that arrive one hour prior to their shift $25 a day rather than an hour of overtime
$2.6 million by using standardized holidays that eliminate overtime
"This agreement will help secure badly needed construction jobs for area tradesmen. The recession has taken a big toll on the families of the construction trades," said Stephen J. Reich, Business Manager Laborers' Local 754 in Rockland County. "These jobs will pay a wage that will allow middle class families to hold on in Rockland and Westchester providing benefits such as a modest 80/20 healthcare plans and private sector pensions."
Reich sees the agreement as a milestone for both labor, government and the communities in the Lower Hudson Valley. "The Rockland and Westchester Building and Construction trades worked with the state to save over $400 million through give backs and work rule changes with some packages lowered as much as 15 to 20 percent." Reich said the unions didn't have to make these concessions because collective bargaining agreements were already in place with each of the four "design-build" competitors.  "We decided on the concessions because we live in the community and feel the pressure of high taxes. We want to dispel the false notion that all unions are greedy," Reich said.
The pact should please both unions supporters and detractors in the Nyack river villages. In a December 2011 poll of NyackNewsAndViews readers, respondents were almost evenly split about whether they favored or objected to non-union labor at the Walgreens construction site on upper Main Street. About 4 in 10 respondents said the decision about who to hire should be left up to the contractor. A little less than half of all respondents agreed with the statement, "I'm pro-union and would prefer that this was a union job site."
In another break with the past, Reich singled out two politicians — for praise.  "I would like to personally thank Governor Cuomo and Senator Carlucci for their dedication and willingness to try to move this agreement move forward," Reich said. "They are truly fair leaders that have an intricate understanding of middle class struggles while upholding their responsibilities to the tax paying citizens of the region and the state."
Reich also recognized that the union's gain will be creating considerable pain for people near the construction site. "As the only exclusively Rockland County trade union involved in the project, Local 754 thanks the people of Nyack and South Nyack for their sacrifices in quality of life while this project moves forward.  It is important that the New York do everything within their power to address and rectify the concerns of the people this project will effect while it is being constructed," he said.
See also: