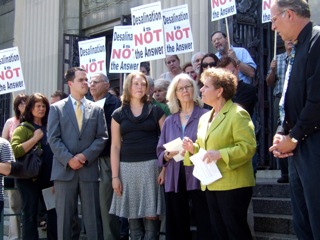 by Maggie Becker
Environmentalists, concerned that NYS Governor Andrew Cuomo will green light a desalination plant in Haverstraw because of its job creation potential, have collected 24,000 signatures from residents opposed to the United Water initiative. On Tuesday, the Rockland Coalition for Sustainable Water asked NYS Senator David Carlucci (Rockland-D) and Assemblywoman Ellen Jaffee (D-Suffern) to deliver petitions to the governor, along with a reminder that United Water's own documents say the desalination plant will only create 10 new construction jobs.
The desalination plant was first proposed in 2007 to address possible future water shortages in Rockland County. Opponents contend that United Water used tainted data to justify building the plant based on excessive downstream releases. The NYS Department of Environmental Conservation subsequently fined United Water for allowing too much water to be released from Lake Deforest Reservoir in Rockland County.
'€œ24,000 signatures represent conversations and also votes," said Rockland Coalition for Sustainable Water member Laurie Seeman. "These are homeowners, residents, purchasers of water, parents and the children of the future generations. These people know that desalination is wrong for our county.'€
The 23 environmental and civic organizations include Clearwater, Riverkeeper, Scenic Hudson, the NYS Sierra Club and the Food and Water Watch.  The say that if built, the plant would increase water bills, energy consumption and greenhouse gas emissions. They predict that consumers will get a big rate hike to cover the $189 million plant construction as well as increased energy costs to run the facility.
"I have personally spoken to hundreds of residents and have not met a single person in Rockland who is in favor of this plant," said Pomona Deputy Mayor Rita Louie. "United Water will make millions of dollars for their parent corporation in France and our property values will plummet as the word gets out that we are drinking Hudson River water.  Nobody will want to live here," she said. Opponents are also concerned about contaminants from Indian Point getting into Rockland's drinking water. The nuclear power facility is less than four miles away from Haverstraw Bay.
Rockland County Legislature Chairwoman Harriett Cornell joined Carlucci and Jaffee at a Tuesday press conference the Rockland Coalition for Sustainable Water held on the steps of the Rockland County Courthouse in New City. '€œThere is a price to be paid'€"a price that citizens of Rockland and New York State may not want to pay'€" in air and water pollution, the discharge of chemicals into the water supply; and disruptions to the ecosystem," said Cornell last April. "We need to be wary of creating a facility which may have an adverse effect on marine life and the unbelievably rich life teeming within Haverstraw Bay."
In March, Jaffee issued a strong public rebuke to United Water regarding a misleading ad they placed in the Journal News which mis-characterized her position on the project. '€œIn United Water's quest to build support for a Haverstraw desalination plant, they have used my name and my words in a manner that I consider utterly unacceptable,'€ said Jaffee.
See also: