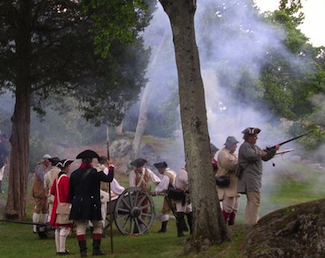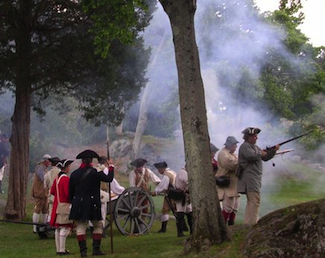 by Loisa Fenichell
The terrain was rocky and the weather was miserable. But the 1,350 American troops at Stony Point had an almost 2 to 1 numerical advantage over the the British as well as the element of surprise: American General Anthony Wayne was set to lead a surprise attack on the British encampment. The 1779 Battle of Stony Point was re-staged last weekend with cannons, authentic clothing and equipment and a few lemonade toasts to King George III.
The Battle of Stony Point was reenacted on June 2 by John Lamb's Artillery, a non-profit organization specializing in reenactments of the American colonial period. '€œLamb's Artillery Company was founded in 1959 and is based on the original company of British artillery organized by John Lamb in May 1775," says their website. "All clothing and equipment used by the members is authentic to the period.'€
The grounds at the Stony Point Battlefield State Historic Site were complete with old-fashioned tents, maps, a tavern and popular games from the 1700s — as well as live cannon fire, too. The 21st century audience learned a few things about 18th century warfare including the difference between rifles and muskets (rifles are much more accurate, although muskets shoot more quickly, thus making them better to use when in battle) and the tents used by the soldiers (men who held higher ranks also had larger tents).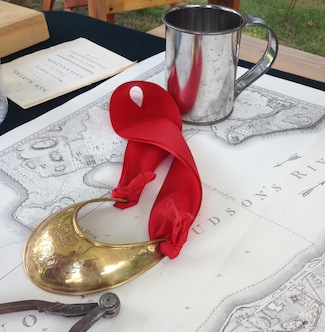 The event was made possible by people like Nicole Krom, a local high school student who joined John Lamb's Artillery after having participated in the Stony Point museum's summer program when she was young. Others include Warren Moseman, of New City, NY, who said that he first began participating in reenactments because he '€œliked to read a lot when he was younger,'€ and enjoyed, in particular, reading about history. He also described how he became part of the reenactment movement during the bicentennial celebrations of 1976, and, after participating in a number of other reenactments over the decades, became involved with John Lamb's Artillery after moving to Rockland County in recent years.
'€œMost people don't realize that what we do is a kind of museum as well. And, I'm an educator,'€ said Nina Pierro. The New Windsor, NY resident says her involvement with John Lamb's Artillery is a natural extension of her background in museum curating. As the barmaid of the camp tavern, Pierro explained how critical taverns were to the spread of ideas during the American Revolution, as well as to the economic development of the young country.
Last weekend's reenactment ended the same way the original battle did 233 years earlier: the colonists were able to take the fort from the British. But shortly after the original battle was over, George Washington abandoned the fort. Which begs the question: why was the Battle of Stony Point so significant? The leader of the American forces wanted to punish the British psychologically as well as physically. General George Washington wrote to Congress, '€œthe event will have good effect upon the minds of the people, give our troops greater confidence in themselves, and depress the spirit of the enemy proportionally.'€
Photo Credit: Palisades Interstate Park Commission; Loisa Fenichell