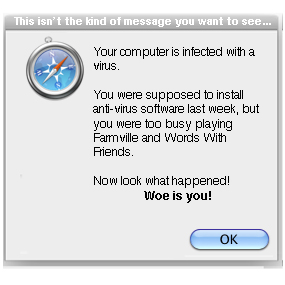 by Jamie Kudla
Computer security is something that everyone needs to take very seriously for their office and home computers.  A computer compromised by virus, spyware, or hacker can result in lost time and data, identity theft, or even money stolen from your accounts.  How can you protect yourself from security breaches?  Computer security can be a highly complex process, involving hardware, software, procedures, and large budgets.  However, most of us don't have the time, knowledge or budget to implement a perfect security plan.  Even if you were to implement a large scale security plan, your computer will never be fully shielded from risk.  The good news, however, is that the majority of computer security risks can be reduced by addressing these a simple items.
Antivirus '€" If you own a Windows PC, you need to have antivirus software installed.  These programs are constantly checking to see if you have downloaded any applications or opened an email that may conceal a virus that could disable your PC, delete your data or steal your usernames and passwords. Having anti-virus software installed is like wearing seat belts: if you aren't hooked up, you might not have an accident. But the consequences of not being protected could be devastating.
There are many effective antivirus programs available at reasonable prices, such as those offered by Symantec, Kaspersky, and McAfee.  Buying a few years of protection from these vendors typically costs around $100 and is easily installable from the Web.  However, installation is only the first step.  Your antivirus product must be configured properly to maximize its protection.  Antivirus products must be updated regularly with new virus definitions.  Definitions are basically a listing of all viruses, new and old.  If you do not have updated definitions, your computer will not be protected from the latest threats.  In addition to updates, your antivirus product must also be configured to scan files on access, and scan all files on a regular scheduled basis.  When a threat is identified, it will prevent you from accessing that file, or repair or quarantine the file before it can create a problem.
Update your programs and operating systems '€" Hackers look for security vulnerabilities in your computer's operating system (Windows 7, Vista, OS X, etc), and programs (Adobe Acrobat, Java, Flash, etc) and exploit them to compromise your system's security.  Aside from fixing glitches, updates to your operating system and programs repair security vulnerabilities as they are discovered.  Applying operating system and program updates is easy to do.  When installing a program, make sure you check the '€œautomatically update'€ selection when presented with that option.  If your programs are already installed, most can be updated manually by opening the help menu and choosing the '€œcheck for and install updates'€ menu.  Windows operating systems can be updated from the  '€œWindows Update'€ icon under programs.  Apple operating systems can be updated via download from the Software Update application.  Java and Flash will usually prompt and remind you to update with the latest version, or you can update them through their respective websites.
Passwords '€" There's a cartoon that shows a family gathered solemnly gathered around a backyard tombstone with the name "Fido." The caption reads, "You will always live on in our usernames and passwords." If this describes your password strategy, consider using a more sophisticated scheme to protect your computer and online access.
Use a complex password.  There are many websites on the Internet dedicated to the theory behind how '€œcomplex'€ your password should be.  However, implementing truly complex passwords is inconvenient, and most people will give up and revert one that is easily compromised.  I offer this simple compromise '€" make sure your password is at least eight characters long, uses uppercase, lowercase, numbers, and a symbol.  This is not as difficult as you think.  Consider the following ideas: 53Mainst!, #January13, or Specialk100.  I also recommend changing your passwords at least once a year.
Use common sense '€" This is probably the most important thing you can do to keep your computer secure.  Do not download and install software that you are not certain is '€œlegit.'€  Do not open an email from an unknown user.  Never send your password or credit card number in email.  If you get a pop-up that says your computer is infected, and click here to remove, reboot your computer, and see if the message goes away.  Use of common sense is probably the most significant means of defense when keeping your computer safe!
Jamie Kudla is president of Tarrytech Computer Consultants in Tarrytown, w
hich provides comprehensive professional IT services for organizations and small businesses looking for a single technology provider offering affordable, predictable pricing. You can email questions to jkudla@tarrytech.com or call (914) 432-3056.