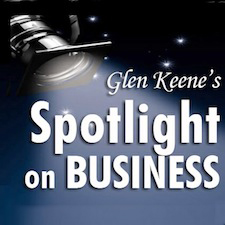 by Glen Keene, JD, CPC
Attorney, certified professional coach and Internet TV show host Glen Keene gives practical tips to businesses and to future entrepreneurs to Enlighten, Engage and Empower to achieve success and full potential.
Did you ever have a week where you had so much going on and so much to do you couldn't finish one thing before having to jump to the next. If you're human the answer, of course, is YES!
It's been one of those weeks for me. Running a law practice and a coaching business, producing an internet TV show, running from one business meeting to the next, with little time in between, the phone calls, emails, text messages and letters to respond to and several marathon meetings with the new web designer picking what's left of my brain looking for the how's and why's of my businesses. Not to mention the three major social events attended by local elected officials and community leaders that I couldn't miss. Oh yea, there's this weekly column I write for an online publication'€¦..and I'm two days late in submitting it.
To say my week was busy is an understatement. It was also a very gratifying week. One I will remember fondly for the rest of my life. The Nyack Rotary Club, to which I belong, held its 2012/13 officer installation ceremony on Wednesday evening. The venue at Nyack College has a beautiful vista of the Village nestled along the Hudson River. I was elevated from Club Secretary to Vice President. I was also honored to be selected as the clubs Rotarian of the Year, a complete surprise and a humbling experience. I was given a plaque commemorating the event that is already on the wall of my office.
Thursday evening it was off to the Rockland Country Club to attend '€˜graduation' as a member of the Leadership Rockland Class of 2012. The program Leadership Rockland, for those unaware, is a ten month long course of study of everything Rockland. The program is a must for anyone who is or intends to be a leader in the county. It was a rewarding experience, learning about leadership and making new lifelong friends.
Friday evening I was at the Nyack Library for an invitation only cock-tail party celebrating the opening day of Art Walk-Art Talk, an annual event tying the art of Nyack with its dining establishments. Having a Sociology background, it was my undergraduate major, I enjoy observing group dynamics. It's especially fun when there are some major players in the room.
Reflecting back in my daily journal I recalled a recent conversation I had with our daughter, a very busy mother of five, soon to be six. She mentors a number of college students many of whom marvel at how much she gets done in a day. She tells them '€œIf you want to know how to get something done ask a busy person'€, wise and sage advice from someone who knows. So I asked myself '€œHow do I do it?'€
By organizing and prioritizing my daily tasks I find it easier to get things done. The few minutes I spend doing this probably saves me hours. I enter most of them into the task tracking function of my calendar program. I also keep track of some tasks with pen and pad.
There are matters that I must attend to on a regular basis. Things like business meetings and functions. These are logged into the program as regularly occurring events. I have my weekly networking meeting and weekly Rotary luncheon in there as a reminder. Doing so helped me maintain a perfect attendance record in my Rotary club. When I book a show guest or set an appointment with a client or a business associate I immediately enter it into the calendar.
I live by my calendar and the program's task list. It's one of the easiest ways I've found to organize my day. Find a program that suits you and use it. Stay organized by setting up your day the night before (my preference) or first thing every morning. Organize your tasks in order of priority. Writing the list out helps tremendously. The list will keep you focused on what you need to do and when, always set a deadline. If you keep a good record of your time you'll miss fewer appointments and be in a better position to finish the things you've started.
After typing the last paragraph I took the dog for a walk and I ran into Dave, my publisher. I promised I would get this article to him right away. One more task to cross off the list, late or not. I see by my tasks list that it's time to start next week's column.
Glen Keene's Spotlight on Success' is streamed live every Wednesday at 6:30p from RocklandWorldRadio.com. Glen's guest on Wednesday June 20th is Larry Luxenberg of Lexington Avenue Capital, financial adviser, networker, community leader and avid hiker.
Email glen@attorneykeene.com, visit GlenKeene.com or call 845-445-2411 with questions about Glen's column, his show or his practice at 99 Main Street in Nyack, NY.
No legal advice is intended or implied herein.