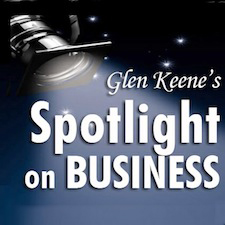 by Glen Keene, JD, CPC
Attorney, certified professional coach and Internet TV show host Glen Keene gives practical tips to businesses and to future entrepreneurs to Enlighten, Engage and Empower to achieve success and full potential.
The commencement speeches have been given, the degrees handed out, the caps and gowns returned and the goodbyes said. Graduation Day is filled with the mixed emotions of joy, elation, anticipation and sadness, maybe a little anxiety. Now '€˜real life' begins. Most of you have been contemplating your next step for many months. Some may have positions in their chosen field waiting for them. Many do not.
Recent research shows that the current job market has improved from last year. A substantial percentage of employers, according to a new survey, state that they are ready to hire more of the 2012 graduates than in the past few years. That's the good news. However, it's a very competitive the job market. Hiring managers have the pick of the best our college and university system has to offer. But, don't expect those high salaries and benefit packages that past employees may have gotten. Companies currently do not have to dangle those carrots to get quality people.
That's not to say those packages aren't available. It's just that the positions where they are available are few and far between. The Class of 2012 is competing with the prior two years or more of graduates as well as the millions of others who have lost their jobs in the last few years. That makes for a competitive job market for sure.
No doubt many of you recent grads went back to college after graduating two or three years go in the belief that the then dismal job market would improve by now. That strategy, based on past economic history, may have seemed sound at the time. But, now you find only marginal improvement in your prospects.
As the stains of '€˜Pomp and Circumstance' fade you begin to realize, if it hadn't hit you already, that much of your sadness and anxiety is due to the pile of student loan debt you've accumulated. According to government statistics you are not alone. Student loan debt is over one trillion dollars. I know it doesn't make it any easier for you to know it's not just you. You need to know what to do.
Stop trying to find a just over broke, also known as a job. Find a niche and crawl into it. Start a business.
Define a pain that others have and a way to ease it. Take the best talent you have and make it into something others want or need. There is always a way for those who are determined. Expand your possibilities.
Impossible you say? I want you to do this exercise. Remove the word impossible from your vocabulary. Run it through the shredder of you consciousness. File it away in the deepest filing cabinet of your mind and forget that it's there. Use your mental keyboard to type it out then hit the delete button. That word should not exist.
'€œWhatever the mind of man or woman can conceive and believe, the hand of man or woman can achieve'€ is an update of a quote of one of my favorite authors, Napoleon Hill. Hill wrote the book '€œThink and Grow Rich'€, one of the most popular, if not the most popular, self-development books ever written. Put simply, if you can think it you can do it.
The power of that revised quote is part of my own story. I'm trained as an attorney and success coach. I operate a business and run a law office. I'm not trained in media, what do I know about it? I never thought I could host an internet TV show or write a weekly column for an internet publication'€¦'€¦ until I thought I could. When I first thought of the possibility I had no idea what to do'€¦'€¦until I asked someone who did.
Is it difficult? Sometimes. Is it always fun? Not every minute. Is it impossible? I couldn't tell you. That word is not in my vocabulary. We live in a time where all things are possible for those who see all possibilities.
It's time for you to make a plan and execute it. Live long and prosper.
Glen Keene's Spotlight on Success' is streamed live every Wednesday at 6:30p from RocklandWorldRadio.com. Glen's guest on Wednesday June 13 is Bill Batson, creator of the Nyack Sketch Log. Bill will update us on the Flash Sketch Mob he is organizing as part of the ART WALK-ART TALK program in Nyack on June 16.
Email glen@attorneykeene.com, visit GlenKeene.com or call 845-445-2411 with questions about Glen's column, his show or his practice at 99 Main Street in Nyack, NY.
No legal advice is intended or implied herein.