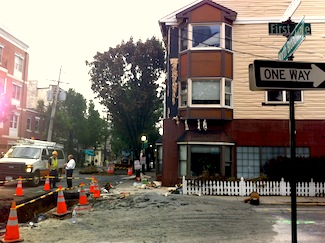 Nyack, June 22  — It's the morning after a gas main break in downtown Nyack sent flames 25 feet into the air at the corner of N. Broadway and First Avenue. As many as 2500 homes were without power briefly. A few hundred are still without gas service.
The blaze, which damaged the Victoria Mews apartments at 50 North Broadway, was caused when an O&R contractor struck a low-pressure gas main. Sparks from near by pipe grinding caused the blaze.
North Broadway near the site of the fire is closed to cars on Friday morning. A deep trench in the road has been excavated near the gas main.
Today all of the action is over except for news about the news: at 7am, three remote broadcast news trucks from outlets including WNBC and News 12 were lined up on Broadway  to provide live shots of last night's action for their morning news shows.
Fire Photo Credit: Excerpted from Video shot by Richard Quinn, Nyack Village Theatre via stickam.com