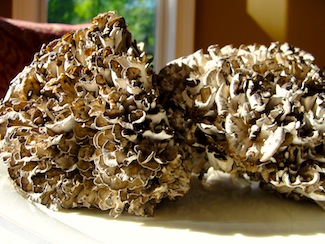 by Donna Schmidt
It shouldn't surprise people that there are tree huggers in Nyack. These children of nature are big and beautiful, as well as delicious, and can be found at the Madura Farms' stand at the Nyack Farmer's Market every Thursday.
Maitake mushrooms are known as king of mushrooms, dancing mushroom, monkey's bench and shelf fungi. They grow in groups at the bottom of oak trees and showcases shades of brown and taupe with ends appearing as if dipped and released quickly from a fire, a color one would want to capture in a painting or as a room color. They have no cap, but a rippling, flowery appearance; looking like the hydrangea of mushrooms. These tree hugging shrooms are meaty, smoky and earthy and can be purchased at Nyack's Farmers Market every Thursday from 8am to 2pm. Maitake's have been eaten in Japan and China for 3000 years and are known as Grifola frondosa.
Maitake mushrooms can be eaten fresh, made into a tea (using dried pieces) or taken as a supplement. When preparing fresh Maitake mushrooms, wash and soak them in water until the mushrooms are soft. They keep between 5 and 10 days when stored in a paper bag in the fridge. In 2009, human trial tests conducted by Memorial Sloan'€"Kettering Cancer Center showed Maitake could stimulate the immune systems of breast cancer patients. Small experiments with human cancer patients have shown Maitake can stimulate immune system cells.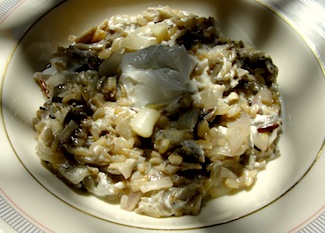 You can purchase two large pieces for about $12 from Madura Farms at the Nyack Farmer's Market. Madura co-owner Vivian suggested a delicious recipe that I made to the delight of my husband — and not so much to my two teenage children.
Vivian's  husband Dan is a man of science and has been studying mushrooms and their medicinal prowess for more than 15 years. '€œHis heart has been in farming since he is three years old,'€ Vivan said. '€œHe is really an innovator; he likes to grow things that are different and grow them in unusual ways.'€ Madura Farms grows mushrooms and vegetables all winter. They use Hi Tunnels which is a bit like growing plants inside a greenhouse, but the similarities end there. Unlike greenhouses, tunnels are temporary structures that range in height. Their metal or plastic hoop-like frames are covered with specially designed plastic sheeting that efficiently retains solar heat and can be rolled up or down to manage air flow. As a result, there is no need for any electrical or mechanical systems to generate heat or to manage ventilation inside these hoop house tunnels.
Dan is a fourth generation farmer, who farms about 80 acres of the 400 that was divided amongst six siblings. Don't miss Madura's array of mushrooms, sunflower, pea and broccoli sprouts. '€œThese are delicious in sandwiches, for juicing, as a soup garnish and with a quick sauté, you never tasted anything like it,'€ Vivian shared with pride.  In the fall look for Madura's popcorn in blue, red, yellow and white.
Easy Maitake Mushroom and Rice
Take a finely chopped onion and shallot; add one clove of chopped garlic and sauté in a little butter and extra virgin olive oil. Add beef stock and white wine, salt and pepper. Cut mushroom into small pieces and add to sauté pan; cook for about 5-10 minutes. Finish with two tablespoons sour cream (optional) so its appearance is similar to a stroganoff.  Serve over brown or long grain rice.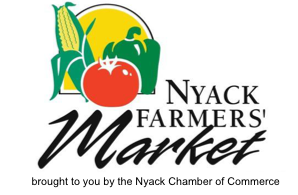 Read about food and healthy eating in Eats of Eden, sponsored by the Nyack Farmer's Market. Hosted by the and the Chamber Of Commerce Of The Nyacks, The Nyack Farmer's Market is open Thursdays from 8a-2p in the Riverspace parking lot at the corner of Main St and Artopee in Nyack, NY from May through late November.