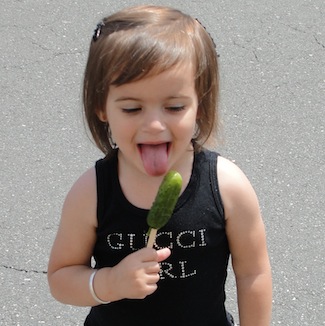 by Donna Schmidt
Samuel Nadel started selling pickles out of a truck at  bungalow colonies in Monticello, New York in the 1950's. He called himself the Pickle King and used the tagline '€œBite the Ones you Love.'€ The city folk who flocked to the Catskills in the Summer knew Sam well and looked forward to hearing him shout, '€œThe pickle truck is here!'€
Today, preschoolers from Nyack and beyond are happy that Samuel's grandsons Marc and Eric took over the family business. '€œOur dad was in the pickle business from the time he was 15,'€  said Marc about his father, who passed away last year. Marc joined the Paterson Pickle Company as Vice President in 2002 after his first career as a corporate lawyer specializing in finance and mergers and acquisitions. Eric Nadel joined his brother in 2004. The brothers sell wholesale out of their facility in Paterson, NJ and continue what their Dad Howard started with the Farmer's Market Business. '€œWe call that part of our business Dr. Pickle and it represents only 1% of our company, but customers love the old time feel of it–buying pickles out of a barrel. It is something that brings a person back in time. Sort of like "Crossing Delancy."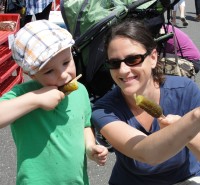 The bright eyed little ones who come to the Nyack Farmer's Market seem intriqued with this former cucumber on a stick. Zach Bloomenthal couldn't wait to bite into his favorite, "I like how sour it is," he explained to his Mom Erica.
Biting into a green, crunchy, little bit of sour happiness seems to be the thing to do on Thursdays in Nyack. Joey the Dr. Pickle salesman, called them "pickle stickles." '€œI love the pickle on a stick because it's fun to eat,'€ Olivia Eden Rose of Nyack decided. Three and four year olds were kept busy crunching while parents purchased half sour pickles, ¾ sours, full sour, sauerkraut, pickled black and green olives, pickled mushrooms, pickled tomatoes, sweet and hot pickled peppers and Giardiniera (pickled onions, celery, zucchini, carrots and cauliflower).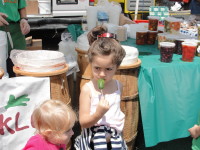 I picked up the sweet pickled peppers and Marc explained that they can be used chopped fine in sandwiches, in tuna or potato salad, made into pesto, pureed with avocado into a dip or made into a red pepper spread.
I chose to try my Neopolitan Grandmother's simple recipe with pork chops. Place the chops with finely cut peppers and liquid in a ziplock bag in the refrigerator for a few hours. Transfer to an oven safe dish and bake. Serve over brown rice.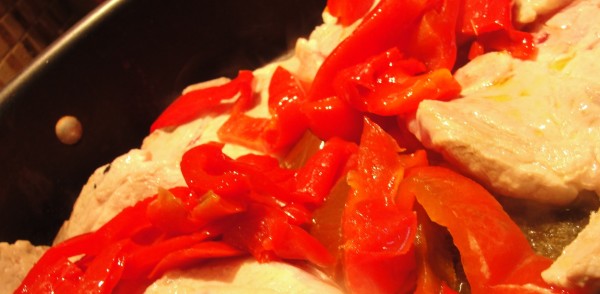 "Bite the one you love" with Dr. Pickle on Thursdays at the Nyack Farmer's Market.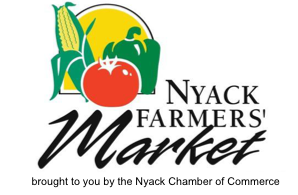 Read about food and healthy eating in Eats of Eden, sponsored by the Nyack Farmer's Market. Hosted by the and the Chamber Of Commerce Of The Nyacks, The Nyack Farmer's Market is open Thursdays from 8a-2p in the Riverspace parking lot at the corner of Main St and Artopee in Nyack, NY from May through late November.