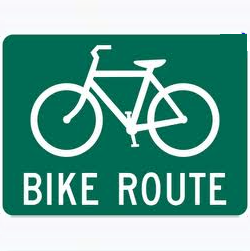 by Timothy Englert
On Sunday, June 10, Janet Martinez, a 53 year old Mount Ivy resident was killed while riding her bike on Route 9W between South Nyack and Upper Grandview. She was struck from behind by a driver who says she didn't see Martinez until the bicycle hit the car's windshield. The stretch of road which Martinez was traveling doesn't have any shoulders and cars routinely exceed the 40 mph posted speed limit.
Last Tuesday, about 50 people packed the Orangetown Town Council meeting to draw attention to this tragedy and to ask the Town Council to work with the NYS Department of Transportation to improve signage and also ticket cars which speed on 9W endangering pedestrians and cyclists.
Bikers have also called on local police departments to enforce the Nov 2010 New York State Safe Distance law (aka "three foot law") which says that vehicles overtaking a bike from behind "shall pass to the left of such bicycle at a safe distance…"
Valley Cottage Resident Timothy Englert, spoke to the Orangetown Town Council about Martinez's tragic accident.
Route 9W, and many other roadways where cyclists expand their lungs and bodies, is doomed to continue leading the pack in casualties and fatalities on our side of the Hudson. My thoughts and prayers go out to the family of Janet Martinez and anyone who has either lost a loved one, or seen their own lives flash before their eyes in a moment of cycling terror.   Action should be taken now to reduce speeds of vehicles, widen the margins, and shift our transportation culture to better reflect our changing demographics.
Yes, something MUST be done. Fortunately, something CAN and HAS been done. Or started, rather, and then all but extinguished.  In the mid 20th century visionary minds fought long and hard for the creation of the Palisades Interstate Parkway, and in their planning these visionaries conceived of and sketched out a shared use pathway that would parallel the Parkway from the George Washington Bridge to Bear Mountain, a distance of 42 miles.  It was never built, but about a decade ago a thorough (and expensive) study of the feasibility of this idea was commissioned, and those documents show a very carefully and sensitively thought out option for a viable north-south route from the New York State Line all the way to Anthony Wayne Recreation Area. Over 25 miles worth of vehicular free pathway suitable for bicycles, pedestrians, and even cross country skiers. New Jersey, not part of that study, could devise a route through its parkland and alongside the existing roadway up to the State Line. The Henry Hudson Drive, which runs underneath the bridge and extends to Alpine, could be the originating section of such a drive, and happens to be one of Lance Armstrong's favorite rides.
A recent fundraiser contributed to this section's repaving, providing a smooth passage with minimal traffic.  The shared use path, designed and estimated in sections, was never intended to replace 9W for bicycles, nor was it designed for the high speed cyclists who prefer to ride in packs.  It was conceived of and intended to provide a traffic free alternative to an increasingly dangerous road, as well as an immersive wilderness experience.
The town of Orangeburg took it a step further and was the first to "get 'er done", creating the Joseph B. Clarke Rail Trail, over four miles in length, and the first completed section of this path.
Orangetown Supervisor Andy Stewart and his other town supervisors in Rockland and Bergen Counties should sit with PIPC Executive Director Jim Hall, DOT representatives from New York and New Jersery, including members of the Federal Scenic Byways Program as well as the Commissioners of the Palisades Parks and insist that that the continuation of this visionary travel artery should once again become a priority, as well as an important compliment to the impending Tappan Zee Bridge replacement, which will have an east/west pedestrian/bicycle component. The Harriman family, pioneers in transportation infrastructure tracing their routes all the way back to E.H. Harriman himself, fought for 40 years to get the Parkway built. Perhaps the activist successor to this vision isn't named Harriman. Maybe it is named Cuomo, or Christie, or Bloomberg. Or maybe it is thousands of lesser known names…
The cost? In today's dollars maybe $40-50 million for the New York section, if the study's original numbers were accurate. Likely it would be a multiple of that if done right. How to pay for it? Well, to suggest an idea, last year's 33rd Pan Mass Challenge, an annual two day bike-a-thon crossing Massachusetts that today raises more money for charity than any other single sporting event in the country, raised $36,000,000 for cancer research in a single year. Every pledge dollar went directly into research. Costs for the entire event is done through corporate sponsorships. Dedicated, multi-year corporate sponsorships. In one year, at one event, nearly the entire estimated cost of this bikeway was raised privately because people believe in its cause.  If we as citizens want it badly enough, and if those entrusted with managing these public lands are willing to continue fighting like the Harrimans, Rockefellers, and Perkinses did, then why don't we work within a tangled and entrenched web of interests to shut down the parkway for a day and let every citizen experience the feel of a slow and leisurely family ride up one of the world's most magnificent parkways, without fear of accident or angry motorist reprisals, and with easy exits along the way. In so doing, we could create jobs and fund the most important transportation infrastructure improvement for the safety and convenience of cyclists that the Hudson Valley has yet seen.
Notably, the Iron Man National Championships are doing this very ride on August 11th, where the eyes of the world will be watching as thousands of the best triathletes on the planet ride this exact route. Mountains were moved to make this happen. The PIPC and DOT has allowed this event, and will be closing the southbound lanes for approximately eight hours, scrutinizing every aspect of what promises to be a highly publicized event.  The heavy lifting has already been done.
Are there enough cyclists and visionaries in New York and New Jersey to convince the Palisades Interstate Park Commission, the towns of Rockland, two states' Departments of Transportation, and all of their state and federal officials – that this is a no-brainer? That here is a chance to lead once again, as it did when it created the Henry Hudson Drive in 1910, and the Palisades Interstate Parkway in the 1950s.  Names like Perkins, Harriman, and Rockefeller represented not only private cash contributions to furthering these transportation initiatives.  These names also represented determination, persistence, and the knowledge that they were doing something important, timely, and right.  Isn't it ironic that one can cycle or run from Battery Park to the George Washington bridge uninterrupted amidst heavy traffic, yet once out of the city they put their lives at risk to ride on suburban roads?  If Mr. Bloomberg and his deputies can create a north/south ribbon of safe travel in the biggest city in the nation, then what other than a lack of will is preventing us from doing the same thing with a plan already at hand?
If Massachusetts can raise over $30,000,000 per year – from cyclists – to combat a killer, then what might New York and New Jersey do together?  How many more cyclists' deaths on 9W must we endure before we find out?
Timothy Englert is an independent film maker who lives in Valley Cottage, New York. He previously worked for the Palisades Interstate Parks Commission.
See also: