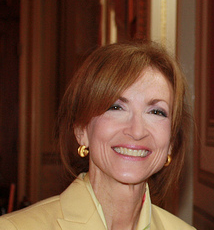 by Cliff Weathers, NYaltnews.com
Last week, a spokesperson for Congresswoman Nan Hayworth (R-NY) posted a Facebook comment that said '€œlet's hurl some acid at those female democratic Senators who won't abide the mandates they want to impose on the private sector.'€ Democrat Richard Becker, who is running against the congresswoman in New York's 19th District, called on Hayworth to fire spokesperson Jay Townsend.
Bloggers on the conservative megasite RedState have thrown in the towel for Rep. Nan Hayworth and her reelection bid. In a post on the site, diarist GISAP laments that a Facebook rant by Hayworth's paid spokesman Jay Townsend, where he suggests people '€œhurl some acid'€ in the faces of female Democratic Senators, has put the last nail in Hayworth's coffin.
Jay Townsend, apparently has had a comment he made blown sky high, unleashing a firestorm of Progressive outrage. Whatever the context of his comment, it's going to be difficult to defend his suggestion that we '€œhurl acid at those female Democratic Senators.'€

If she was trying to fly under the radar and cruise to re-election, she can forget about that now. As I wrote on her Facebook page, I'd rather NY-19 was held by a D, that way I wouldn't feel betrayed.
A commentator dubbed commonsenseobserver said of Townsend:
That person's gonna re-open the gender gap!
On her government-funded Facebook Congressional page, Hayworth's staff has ignored the First Amendment and deleted the comments of many concerned or critical of Hayworth's decision to stand by Townsend, even after Townsend's rant invoked horrific images from barbaric Middle Eastern societies, where women are terrorized when the most strong-willed of them are doused and disfigured with acid.
One post removed by Hayworth's staff eloquently summed up why Hayworth should disassociate herself from Townsend:
'€It seems a shame you think that way. We have only to remember Gabriel Gifford's shooting along with the collateral slaughter to find truly deranged people in the world. We don't know what sets them off but it could easily be misconstrued comments such as those made by your aid. God help us all if acid is thrown at someone, Senator or not. IMHO you should really come down hard on this episode and not slough it off with political talking points.'€
But even as hundreds of posts have been removed from her page, hundreds more remain. A random sampling of the profiles of commentors on Hayworth's page indicates that they're not your typical Democratic activists, but a wide range of people across the political spectrum, and many live in Hayworth's district. The remaining comments getting the most '€œLikes'€ on her page are those that chide Hayworth with a new nickname they've adopted for her: '€œTaliban Nan.'€
Townsend's comments have vaulted Hayworth from a footnote legislator to one of national contempt on the level of Michele Bachmann and Rick Santorum. But unlike Bachmann and Santorum, her perceived moderate views on some social issues don't jibe to a hostile and xenophobic aggregation of voters. So with recent events playing out as they have, this puts Hayworth in a precarious position of alienating voters of all stripes come November.
A few months back, Hayworth tried to shake up her troubled reelection campaign and redraw herself from a conservative to a moderate, although she consistently votes with the Republican House leadership, notably siding with them against regional job creation, Hurricane Irene disaster relief, and women's health issues.
Hayworth, who defeated John Hall in 2010 bolstered by Tea Party support, now claims she's a centrist, a bit of a flop that may have flopped with moderate voters, considering this week's outrage. Earlier this year, Hayworth bragged to the Capital Tonight television audience that she often votes with President Obama.
When asked by the cable news program how she planned to appeal to voters in a more Democratic congressional district this fall, she tried to conjure up a bipartisan image:
'€œI've been eager to work with Democratic colleagues and with the president all along,'€ Hayworth insisted.

'€œI'm one of the members of the House majority, who has voted most frequently '€" actually, about a third of the time I voted the way President Obama has also supported voting'€¦So, I'm confident that I'll be able to work successfully to make our Democratic voters feel well served.'€
But Hayworth still stands by the men of the radicalized right when called upon. Hayworth joined the Republican leadership on limiting women's health choices and told CapitalNewYork.com that she believes that contraception is a First Amendment issue and employers have the right to deny coverage for anything that they find objectionable. Subsequently, Hayworth backed legislation that would allow employers to select which benefits to offer based upon subjective moral values. Previously Hayworth had joined the House majority in voting for bills that would restrict funding to groups like Planned Parenthood.
And when Rush Limbaugh called Georgetown Law Student Sandra Fluke '€œa slut'€ and '€œa prostitute'€ because she dared to advocate for health-care coverage for a classmate who suffered from ovarian cysts, Hayworth was notably silent. Her press-release mill, which churns out the Congresswoman's thoughts on even the most mundane matters, such as Super Bowl wagers, went still. It's no wonder, Hayworth owes too much to the male Republican leadership to speak out against their lead propagandist, no matter how despicable his words might be.
The Townsend Acid Incident cannot be erased by team Hayworth, either. When voters research Hayworth on the indelible Internet, it will stand out prominently. What's lost on Hayworth and her messaging team is that we live in a Golden Age of Information, where politicians can't hide their past allegiances and positions. Try as she may, Hayworth can't hide her votes against women or her spokesman's misogynistic, violent remarks against them. She can't hide that her campaign was backed by rabid Tea Party groups and the hedge-fund vultures that wagered against our nation's economy. She can't hide that she tried to kill 380 jobs in Orange County. She can't hide that she tried to kill Medicare.
But what is most shaming is that Hayworth can't hide her devotional and subservient silence as she stood by Rush Limbaugh and Jay Townsend as they attacked the reputation and dignity of American women.
Taliban Nan, indeed.
Cliff Weathers publishes NYaltnews.com, where this article originally appeared.