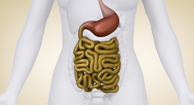 by Tracy Rose
Although Crohn's Disease is relatively rare compared to Irritable Bowel Syndrome and even Ulcerative Colitis, it is a growing diagnosis that results in extensive health care expenditures, hospitalizations, and mortality every year in the U.S. Crohn's Disease is one of several Inflammatory Bowel Diseases (IBDs) that affects the entire gastrointestinal tract, often requiring aggressive management and intensive care. The condition is chronic, although many people enjoy periods of remission. Many individuals with Crohn's will eventually require invasive surgery.
Despite the fact that Crohn's can be debilitating and extremely costly (averaging almost $19,000 per year per Crohn's patient and up to $15.5 billion nationally in 2006 dollars), only a handful of states actually know how many Crohn's patients live in their states; the few that do have data only have it because of large treatment centers or statewide research endeavors requiring disease registries.
Rockland County, for instance, reports on over 50 health-related conditions in its 2010-2013 assessment, none of which relate to gastrointestinal health. Crohn's Disease is, by and large, an unseen illness that doesn't get discussed.  Its details are unpleasant, and few without the condition truly understand the pain and discomfort it can cause.
That is why advocacy and awareness efforts are so crucial. Not only is it important for the newly diagnosed to have adequate online and clinic-based resources for reliable health information on Crohn's Disease, it is also essential to promote and support additional research on the condition.
Healthline is working with the Crohn's & Colitis Foundation to help fundraise and find a cure for Crohn's Disease. Until July 1st, visitors to Healthline's Crohn's & Colitis Fundraiser page can learn about current events in Crohn's Disease research and donate to the cause. For every dollar donated to the Crohn's & Colitis Foundation before the deadline, Healthline will donate another dollar. So start spreading the word!
Crohn's Disease can be a debilitating illness. Despite the pain and expense it can cause, it will remain in the shadows until individuals and health organizations stand up and take notice. Call your local health department to voice your support for Crohn's data collection or support Crohn's research and fundraising online to make sure that this terrible illness doesn't go unnoticed any longer.
Tracy Rose works with Healthline.com, an advertiser-supported Web site whose mission is improve health through information.