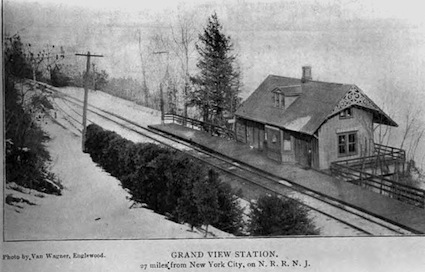 by Barbara Puff
Growing up along the Mississippi River in Minnesota I was frequently teased by other children because of my last name. It all started in grade school when a song came out called Puff the Magic Dragon. Years later, when I moved to Rockland County, I discovered my family name had played an important part in Lower Hudson Valley history.
After college I headed east to write, moving first to New York and then Rockland. Rumor had it the taxes were lower in Rockland than in Westchester, which is why many of my friends relocated here. Before moving here, I came up on the bus every weekend to visit. The bus would crawl out of the dirty Port Authority, and if we were lucky and there was no traffic, race north on the New Jersey Turnpike. Arriving in Rockland was like stepping back into another time.
I loved the area. But for some reason I couldn't fully explain, I especially liked Grand View on Hudson. The colorful homes clinging to the side of the mountain or hugging the shores of the river near the Tappan Zee Bridge transfixed me. The bridge looked like a Christmas tree all year long.
Within a year I'd found an apartment in South Nyack and moved. Thus began my ten year commute to the city, alongside thousands of other local residents, running from homes shortly after dawn, to waiting buses if we were lucky, disappearing ones if we were not. Most of us slept half, if not all, of the way to the city, working twelve hour days for never enough money, dozing on the way home, too tired to look out the window at the view which was the reason we'd moved here in the first place.
One year later, I found myself at Shop and Stop browsing a listing of homes for sale. A realtor saw me and convinced me she had the perfect home for me on the river. Perfect, I thought to myself sardonically. The only problem was I knew I'd never be able to afford it. More from curiosity than anything else, I agreed to meet her at her home in Grand View the following evening to look at the place. I got lost in the dark on the way there, wondering how the bus drivers made it look so easy every time I rode with them.
Greeting me at the door, we walked down the street to the house. Originally built in 1750 as a school, it later served as a residence for several local pastors. It appeared to be the perfect clean, well lighted place for me to write the Great American Novel when I was not running for the bus each morning.
Walking back to her home, she informed me the cost was only $750,000 and the taxes a mere $17,000. Wracking my brain for a quick solution bordering on the miraculous, I thought if I got the lead in a Soap Opera I could easily handle the mortgage and taxes.
Back at her home, she offered me a cup of tea and pulled out a book, Oh, What a Grand View, by Terry Talley, for me to look at while the water in the kettle heated. Turning pages, I almost screamed as I noticed my last name, Puff, everywhere.
'€œExcuse me,'€ I said, '€œthat's my last name,'€ pointing at various pages throughout the book.
'€œHow strange,'€ she said to me, '€œThere was a Puff that lived up the road.'€
Nelson A. Puff II bought house #33 in 1865, followed by #36, #40, and #50, all on River Road. A quarryman, he blasted trap rock and brought it down Puff Lane to Puff Pier, still next to the Tappan Zee Bridge today. He also owned a hat factory at #35 River Road, which failed in the depression of 1893 and was later made into the bottling works.
I shared these discoveries with my sister, who has done extensive genealogical work on our family. The Nelson Puff's have a long local history going back to the Revolutionary War. Puff I fled Manhattan after the British seized the island. Puff II settled in Grand View. His son, Nelson III, was the longest resident of Grand View until his death in the 1980's. My sister is checking to see if we are related to Nelson Puff I, II or III.
Long before Caroline Myss coined the phrase "biography is biology," Frederic Fellini stated he believed in the concept of genetic memories with regard to his own life. I find that concept fascinating, even if unable to prove. I cannot help wonder why I was so drawn to Grand View on Hudson while riding the bus here each weekend, when one of its most prominent residents shared my last name? I will never know the answer to that question.
The house that I never bought concealed an additional coincidental connection. When it served as a school, its first teacher was named Miss Sullivan. And why should that concern me? Well, my mother's name was Miss Sullivan, before she married Marvin Puff. She was also a teacher for many years. Small world.
Raised in the Midwest, Barbara Puff is a writer who now lives in South Nyack, NY. 
©2012 Barbara Puff. Photo of Grandview Train Station by Van Wagner