by Brian Jennings
On June 7, 1862, you can almost imagine the cries of bloody murder in Rockland County from that day's edition of the Rockland County Journal. It wasn't about what was said but rather what was spelled on the front page. A careless typesetter misspelled and printed the month of June as "Juen."
Original poetry and stories were a regular feature of 19th Century newspapers. In Nyack, Willie Gilchrest was a regular contributor of stories and poetry.  He wrote the poem "Welcome Home" for The Rockland County Journal and signed it from Brooklyn, May 1862. Maybe Gilchrest knew Walt Whitman?
Welcome Home by Willie F. Gilchrest
Rockland County Journal – June 7, 1862

Again we meet, again we greet,
Our true hearts with rapture swelling.
And once again dear Friendship sweet
Within our happy bosom's welling,
I clasp thy hand, I press thy cheek
And feel that still thou art my friend,
Kind words in vain I strive to speak
To tell thee welcome home, my friend.

Thy hand I press, thy brow caress
And talk to thee of olden time,
And thoughts of boyhood's hour now bless,
Thou wanderer in a far-off clime.
Then welcome to thy home once more,
Thy voice a lustre bright will lend
And will sweet music round me pour,
Thou truest, best and dearest friend.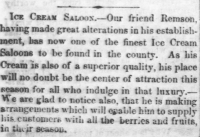 In other news, The Methodist Episcopal Church announced its annual Strawberry festival which was held in the large hall over the piano factory.  It was announced that "Our friend Remsen" opened an Ice Cream Saloon, "having made great alterations in his establishment."    Apparently, Remsen caught the temperance bug.

And even back in 1862 the sidewalks in Nyack were news as it was announced that a "handsome sidewalk of smooth broad fieldstone, one hundred feet in length, was laid down this week in front of the new dwelling of Mr. William Voorhis on Broadway near Main Street. "
Brian Jennings is the local history librarian and librarian supervisor at the Nyack Library. This article is part of a series extracted from scanned copies of the 1850-1884 Rockland County Journal which include The Civil War and the period in which realist painter Edward Hopper lived in Nyack. They provide us with a snapshot into what life was like in Nyack and Rockland in the late 19th century.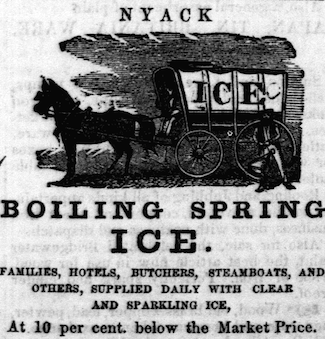 See also:
Rockland County Journal News, June 7, 1862
Other stories in the 150 Years Ago in Rockland series:
South Nyack's Tappan Zee House, 6/2/2012
Generals Lead, Lincoln Retreats, 5/27/2012
Sympathetic Treason, 5/19/2012
Emancipation, Deportation in 1862, 5/12/2012
The Death of a Volunteer, 5/5/2012
A Nation At War With Itself: Letter To Nyack, 1862, 4/28/2012