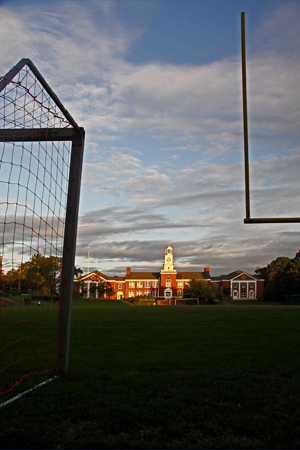 by Alison Perry
Driving up Midland Avenue one day this past spring, I was passing by the old Nyack High School when I suddenly turned and saw the light. Literally. Some people refer to it as Hudson River Light, a bright spectral light that clarifies the landscape and everything in it. The really cool part was that it was late afternoon raking light so objects being intensely illuminated on their right side from the sun's oblique angle to the earth, were forming long dark shadows on their left. This brilliant path of sunlight fell onto the athletic field and up the facade of the red brick building to the top of the white clock tower. At the same time, multiple waves of thin dark cloud bands moved westward over the Hudson River. It was after a rainfall and the sky was clearing.
As I pulled over and walked from the car to the field with my camera, it hit me. This is what the Hudson River School landscape painters encountered in their journeys north, an incredible luminosity sweeping over the landscape, cleansing and clarifying it, renewing it. The Hudson River School artists were no different from me. I was doing exactly what they did – renewing my spirit in the presence of nature, capturing an illuminated landscape, using light as a focal point and as a visual metaphor to express an inner spiritual need. Wow, it hit me again. The previous winter had been a difficult one. I had not only ended a long-term personal relationship but a professional relationship as well. And as one of those people who see northern winters as long dark tunnels requiring lots of perseverance to get through, my spirit was in need of some serious uplifting – when I saw this light.
As I stood behind the football goal and soccer posts, using them as foreground framing elements to effect a better composition, I photographed the sky, the sunlit building and the athletic field, using a wide-angle lens to amplify space. At the same time this would lead the viewer's eye to the main focal point, the light on the distant building. During the process I thought about how and why the Hudson River School came into being in our nation's history.
It was around 1825, after the period referred to as the Age of Revolutions: the American: (1775-83), and the French (1789-1815). Spiritual renewal was in the air and attitudes were changing. The Hudson River Painters, a loosely joined group of academy trained artists got swept up into this spiritually motivated art and philosophical movement called Romanticism. Rooted in Western Europe in the mid 1700's, Romanticism eventually gained a world wide audience as it redefined the fundamental ways in which people viewed themselves and the world around them. Freedom of imagination and thought were at its core in opposition to the constraints of the social traditions, intellectual reasoning and rational thought espoused by the oppressive, aristocratic king and queenly courts of Europe.
Romanticism equated nature with the sublime and all types of artists were taking cues from it. The HRS artists took long journeys deep into wilderness areas, first in upstate New York, then outward to different parts of the country and eventually the world, to sketch, commune with nature and revitalize the creative and human spirit. Their majestic, highly detailed canvases promoted nature as superior to all else, including anything produced by man. Their message was clear: we must preserve the natural world because nature promotes inner spiritual well being. I thought to myself – what could be better than that?
Then it hit me one last time. What's old is new again. I had communed with nature and with the HRS painters as well, and in doing so, my spirit had been revitalized in a big way. This little event brought me full circle back to what had motivated my interest in art as a young adult, before professional obligations and personal failings had taken a toll on my spirit. It was the simple beauty of sunlight on landscape.
Alison Perry owns a Nyack-based photography business that combines architecture, landscape and formal space and strives to make personal art about time and place. She received BFA in Studio Art from SUNY Purchase and a graduate degree in Library Science from Long Island University. Previously, she worked in journalistic and editorial photography for several different national/regional newspapers in NYC, PA and CA. See examples of her work at alisonperry.photoshelter.com/index
For more information about the The Hudson River Painters, visit
In response to this story, I received the following information and related links from Henry Miller of Goodman Media International in NYC.  hmiller@goodmanmedia.com  (Thank you Mr. Miller.)
RENOWNED HUDSON RIVER SCHOOL ART TRAIL MORE THAN DOUBLES IN SIZE, GROWING TO 22 SITES IN FOUR STATES
Extraordinary Art Trail, Combining Nature and Culture, Grows to 17 Sites in New York, Two in New Hampshire, Two in Wyoming, and One in Massachusetts.
http://www.thomascole.org/trail
Hudson River Valley National Heritage Area
Hudson River Valley Greenway