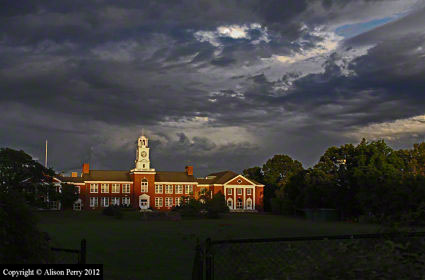 by Alison Perry
Photographers who pursue rural and urban places in the American landscape often include iconic objects in their pursuit. Icons are cultural identifiers that embody conventional formulas or standards. They can be a person or thing and are regarded as representative symbols of significant aspects of culture, regardless of the time in which they came into being because eventually they transcend time and place.
In landscape photography, I seek light and atmospheric conditions that alter an ordinary object or scene since they help form a sense of the passage of time. Shooting in early morning soft light or during the golden hour just before sunset helps in this regard too. Equally important is the "decisive moment," that split second in time when objects and atmospheric conditions meld together to make a very compelling image. Coined by the French photographer, Henri Cartier-Bresson, in the 1920's, the decisive moment is commonly practiced by photographers today and luckily for me, the old Nyack High School, a favorite local icon is only steps from my door.
Completed in 1928, the old Nyack High School rises two stories high along a hilltop ridge running parallel with the Hudson River on the far side below. Considering the fact that formula and convention binds hundreds more like it to rural and suburban townships in New York, New England and elsewhere, one can not deny this stately Georgian Colonial red brick building with white trim, central clock tower and crowning bell cupola has completely transformed the surrounding landscape, so when atmospheric conditions are right, one can make a very compelling image.
If one studies the scene, he or she may notice the front faces west, as opposed to overlooking the Hudson on the east. Whether or not the architect intended to form a connection between sunlight and education, i.e., enlightenment, this photographer did, because as it happened that day, the golden hour fell brilliantly across the facade just after I arrived. In an instant… one of those decisive moment instances, the formation of low, dark swirling clouds blanketing the sky broke apart and a diagonal shaft of light shot down to the building below. It was an opportunity to connect the physical with the metaphysical and I was reminded of the Spanish Renaissance painter,  El Greco (1541-1614), who favored connecting the emotional and spiritual realms in biblical subject matter, painting ethereal figures engulfed in swirling gray-white cloud like matter.
With a sweeping view across the great lawn and athletic field, I used a wide-angle lens to increase the amount of space around the building to take advantage of surrounding atmospheric conditions. In post-processing, I used Adobe Photoshop to create a luminosity mask for the highlights in the central white clock tower. I did this to bring out detail in the highlights there and because it was important to my theme; connecting light to enlightenment of the spirit through education. Luminosity masks can be useful in landscape photography because the extreme exposure range late in the day between earth and sky can be problematic. Polarizing (P) and neutral density (ND) filters used over the camera lens achieve good results in many situations, but luminosity masks offer greater specificity control. Polarizing and neutral density filters grade an image laterally, while masks allows you to separate an image into layers in order to darken parts of that image that might be too light or overexposed, or lighten the parts that may be too dark or underexposed. The point is to increase details in that portion of the image the eye discerns but the camera can't record. Luminosity masks are a bit tricky to use, but can come in handy in situations like this.
Horizontal image shot with Canon 28mm L1.8 lens @ 1/125 F10 @ ISO 640 6:44 pm 06/07/12
See also:
Alison Perry owns a Nyack-based photography business that combines architecture, landscape and formal space and strives to make personal art about time and place. She received BFA in Studio Art from SUNY Purchase and a graduate degree in Library Science from Long Island University. Previously, she worked in journalistic and editorial photography for several different national/regional newspapers in NYC, PA and CA. See examples of her work at alisonperry.photoshelter.com/index