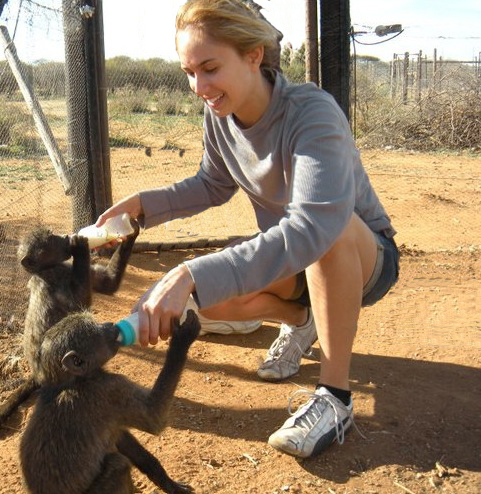 by Julie Lifton
You can help launch one of Nyack's own on her lifelong dream to volunteer around the world.
Claudia Lifton-Schwerner's passion is to advocate for animal and environmental protection.  Since graduating from Nyack High School, she has volunteered at animal refuges in Costa Rica, Greece and Namibia, as well as putting in almost every spare hour at the local animal shelter upstate where she's just graduated from Oswego State.
She recently entered a contest sponsored by GVI, Global Vision International (GVI) – a non-political, non-religious organization, which runs over 100 projects in 25 countries.  The winner of the contest will become the official blogger for GVI's volunteer sites for a year, all expenses paid!  If she wins she'll be working on and blogging about their efforts in conservation, sustainability, and wildlife rehabilitation projects around the world.
Out of over a thousand entrants, Claudia has made it through four stages to the FINAL ROUND and she's in the TOP FIVE!!!!
To get to this last stage each of the finalists created a 90 second video, titled, '€œI should volunteer with GVI because'€¦.'€  To win she needs to get as many votes as possible on the GVI Facebook poll by May 17.
You can help send her on this opportunity of a lifetime by clicking here and voting for Claudia Lifton-Schwerner on Facebook by clicking on the '€˜poll' link.  To see her video, visit Vote For Claudia at  gvi.co.uk.
Julie Lifton is Claudia's very proud and enthusiastic mom.