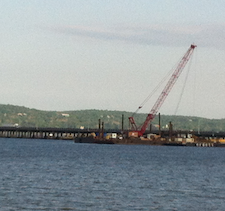 A no-cost solution to mass transit on TZB is still possible.
by Dave Zornow
Nyack, May 7 — The past two weeks have generated a lot of noise about replacing the Tappan Zee Bridge. There's also been posturing, outrage, frustration… and a little bit of pile driving, too. On closer examination, a lot of what passes for news turns out to be just noise.
South Nyack resident Anita Brown says the loud rhythmic banging she heard on Sat May 5 wasn't a typical early Spring afternoon sound. '€œI can hear the pounding of giant pilings into the ground…must be in the river,'€ said Brown, who is a professional music composer.  "It is metronomic and has reverb. And it's only the beginning."
On May 2, BuildTheBridgeNow.org, a coalition of business associations and construction companies that says "no mas" to the no mass transit talkers, held a press conference at the River Club in Nyack where Al Samuels, president of the Rockland Business Association, criticized the opposition. Samuels said that people who want to see mass transit included on the new Tappan Zee Bridge don't '€œunderstand economics or they are pure obstructionists.'€
We will have to assume Samuel's list of economic no-nothings and obstructionists includes the 27 politicians, environmental advocates and transportation organizations that signed on to a press release last December calling for mass transit on a new Tappan Zee Bridge as well as the 84% of Nyack area survey respondents that said the TZB should inclde mass transit. It's not just Mr. Samuels who suffered from a loss of perspective last week: the Journal News ran it's BuildTheBridgeNow article as a front page story without mentioning the significant support for Bus Rapid Transit (BRT) and the fact that only one elected official has offered unqualified support for Cuomo's bus-less bridge plan.
Later that week, the Tri-State Transportation Campaign, a group which advocates for BRT on the TZB, included Al Samuels in a list of weekly "[heros and villains] in transportation and development" in the loser column.
Although less than a five minute walk from the BuildTheBridgeNow press conference, the Nyack Village Board wasn't invited to the event. "What could be gained by willfully ignoring the elected officials who represent the communities that will be most highly impacted by this project and by ignoring the environmental and other community organizations that have raised legitimate concerns and questions about the lack of process and information that has surrounded this sudden rush to construction?" said Nyack Trustee Steve Knowlton. "It is also interesting to note that those demanding this hastily produced bridge are primarily those who will personally benefit from it or on whom the project will have minimal impact," he said.
The NYS Department of Transportation suffered a setback on April 26 when it failed to receive a low-interest TIFA loan from the Federal government to finance about a third of the estimated cost of a new bridge. But the Feds told New York to keep the faith and encouraged Albany to reapply should Congress authorize more funds.
On April 23, the Salisbury Point Apartments, a co-op located just North of the bridge in South Nyack, held a meeting at the Sons of Israel Congregation in Upper Nyack to vent their frustrations and express their concern about the impact Tappan Zee construction will have on their quality of life. Meeting attendees were greeted with a sobering sign that seemed to equate building a bridge with genocide: "Our plea is for PROPER PREPARATION before utter devastation. The innocent victims at ground zero – SALISBURY POINT — condemned to imprisonment with five years of horrific noise, polluted land and water, poisonous fumes, high voltage lights and toxic emissions resulting in lung diseases an death.'€ Which gives the real estate expression "location, location, location" new meaning on multiple levels.
There's lots of noise about the bridge. Unfortunately, what's required now is less talking and more strategic thinking if people want to get Governor Cuomo to amend his plans.
Let's face it: the governor is going to build that bridge. No one knows how he will pay for it — yet. But don't be surprised if the $5 toll jumps to $16 as some independent sources have speculated and even the Thruway once suggested. It's ironic that although Cuomo has been painted as anti-mass transit, a future $16 toll might provide a greater incentive for getting people out of their cars and on to the existing mass transit than building a new BRT line.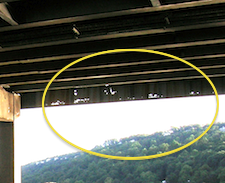 For those who say "stop or we'll sue!" it's likely that the governor has a surprise up his sleeve. Reliable sources have hinted that the bridge is in much worse shape than transportation officials will publicly admit. Pictures presented by the Nyack River Rowing Association at the March 2012 DEIS hearings showed sunlight shining through the supports that hold up the roadway, giving credibility to the unofficial whispers. If environmentalists, anti-bridge people or mass transit huggers decide to bring a suit, all Cuomo needs to do is to play the "Minneapolis card." Any mention of the 2007 I-35 bridge collapse will either shut down a lawsuit or politically inoculate the governor should he decide to run for higher office in 2016.
How do you play poker with a governor who seems to hold all the cards? Actually, it's pretty easy. Figure out a way to make him look good that advances your game without impacting the new bridge's cost or delivery.
Rockland County already has a mass transit system in place called the Tappan Zee Express. Admittedly, it's not the full blown bus rapid transit envisioned in the original plan — but it could easily run in its own dedicated lane on a new bridge to satisfy those who fear that if mass transit doesn't launch on day 1 it will never happen. There's ample capacity for the TZ Express in the new bridge design and this feel good/looks good/politically astute move would cost nothing to implement. It's likely that the governor might agree, too, if for no other reason than to avoid continued criticism that he's against mass transit.
This idea is part of a more ambitious plan proposed by Rockland County Executive Scott Vanderhoef. It's not clear why it hasn't advanced because it sounds like a win-win for the Cuomo camp and transit advocates, too. Even though it sounds good, maybe it has failed to catch on because when it comes to the new Tappan Zee Bridge, it's so noisy around here you can't even think.
See also:
Photo Credit for Bridge Deterioration: River Rowing Association