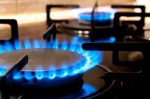 by Rivertown Film
Until the 14th century, people in Western culture came together in a great hall for comfort and sleep around a roaring bonfire.  The kitchen was a small annex off to the side.  Today, the hall is a small annex where we leave our muddy shoes and coats and kitchens have become the great rooms where the family comes together.
On Sat June 9, you can tour of a few local kitchens that warm the hearts of all who enter in a special event to benefit Rivertown Film.  If you're thinking of renovations or buying a new oven, dishwasher, getting a new counter, you'll find all ideas and inspirations in these 11 unusual kitchens.  Some of them reflect high end purchases like Sub-Zero refrigeration, French stoves and exciting decorative tiles while others sport a do-it-yourself  highly creative atmosphere. But all are very inviting and attractive.
Visit the 1910 magnificent English Country Tudor on North Broadway which still has the original American Chestnut floors and paneling. The butler's pantry still has the service call buttons and even a silver sink! There are also modern touches and appliances, including two purring Bosch dishwashers and a gas/electric double oven and five burner cook top plus grill.
Tour the completely renovated kitchen of a multilevel Contemporary on Tweed Blvd overlooking the Hudson. This kitchen comes with radiant heated travertine stone floors, sandblasted granite counter tops, and an under counter two-temperature wine refrigerator. There's even a drop-down rotating television which hangs from the ceiling.
The tour includes a visit to a Piermont Ave. a food-writer with a growing family of four children who upgraded their 1860's home combining Ikea, Restoration Hardware and Conrans touches with a handsome Swedish tile stove that heats half the house. You won't be moving this kitchen "fixture" around to dust underneath — this stove weighs more than a ton and needs its own foundation. You'll also be treated to another kitchen which is in a "family way:" it includes a wall of beautiful hand-painted terra cotta tiles in the kitchen adjacent to the dining area that has a constantly changing display of the children's artwork.
Many of the homes on the tour are along the Hudson and open up to gorgeous river views. Several have been used as film locations including the 2009 movie "Julie and Julia." One fascinating house is currently owned by a film writer and director and another has been the subject of countless kitchen ads.
Join us on Sat June 9 for marble and granite of all colors, faucets, sinks and stoves of all kinds and colors, walls of beautiful tints, and clever wall collections that look great.  You won't be disappointed! Tickets to the Rivertown Film Kitchen Tour are $40 on June 9 and $35 in advance. Join Rivertown Film and receive a $5 discount! For more information and to buy tickets, go to Rivertown Film.