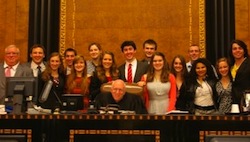 Most teenagers can be counted on to argue in front of their elders. But some high school students in Nyack are better at this than others. In fact, they are tops in the state.
Nyack High School's Mock Trial Team took top honors last Tuesday winning the NYS Mock Trial High School Tournament in Albany. They bested Jamesville-Dewitt High School from Onondaga County to take top honors for the first time. It's their second trip to the championship round, having previously competed in the 2008 state finals.
Attorney-coach Dr. Duncan Rogers Lee II  and Nyack High School teacher Kevin Sullivan coached team members Samuel Bangs, Rebecca Blair, Cassandra Brown, Charlotte Buck, Gillian Clowes, Andrew Gates, Jessica Gerber, Lauren Gerber, Allison Hackel, Ryan Kirsch, Natasha Sarna and Jacob Steinberg-Otter.
Teams argued the fictional case of People of the State of New York vs. P.J. Long. The case involved a defendant charged with assault in the second degree.
One of the largest mock trial competitions in the country, New York's Mock Trial High School Tournament is run by the Law, Youth and Citizenship Committee of the New York State Bar Association. The competition teaches high school students basic trial practice skills including how to conduct direct and cross examinations, how to present opening and closing statements, how to think on their feet and learn the dynamics of a courtroom. Students also learn how to analyze legal issues and apply the law to the facts of the case. Additionally, students learn ethics, civility and how to be zealous but courteous advocates for their clients.
The May 22 mock trial win by Nyack's students was presided over by New York State Court of Appeals Judge Robert S. Smith in the James T. Foley Federal Courthouse in Albany.
The mock trial season began in December 2011 when more than 300 high school teams from across New York began preparing and presenting their cases in local tournaments.
See also: