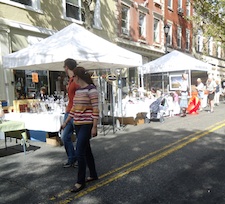 Nyack, May 20 — If you are coming to the Nyack Street Fair today between 10a and 5p, know that you are the second big crowd of the day to pass through town.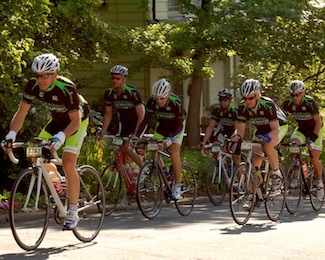 Here's some street fair tips and other Nyack info for out of town visitors.
Those Gran Fondo signs you see have nothing to do dipping bread in melted cheese. About 5,000 cyclists, part of a 110 mile international bike race called Gran Fondo New York, passed through Nyack before 9a on their way to Bear Mountain and back to the finish line near the NJ side of the Lincoln Tunnel. Not to worry — the bikers left all of the good parking spots for you.
Speaking of parking — it's free every Sunday. But should you return to our fair village on another weekday, be aware of Nyack's new 11 to 6 Parking Plan. That means you need to feed the meters 11a-6p and 11p-6a every day but Sunday. If you go to dinner and expect to stay out past 11p, you can buy a parking voucher earlier and the muni meter will stamp your ticket beginning at 11p.
Nyack is a pretty dog friendly place, but they aren't allowed at street fairs. That doesn't mean you won't see the occasional pup with his peeps. But be aware if you and your pooch get busted and sent home, don't get angry because you've been warned.
If you like the arts, check out the first ever Flash Sketch Mob which will be held in Nyack on June 16. One hundred artists will divide up the village and sketch its unique homes and buildings. Feeling sketchy and want to join the fun? There are still a few good grids left to grab. Contact event organizer Bill Batson for more info.
And if you can't make this street fair, there's more to come. Future 2012 street fair dates are July 15, Sept 9 and Oct 7.
See also: